So I'm thinking about a 'next bike'. I'm not quite sure what yet.
I have one of these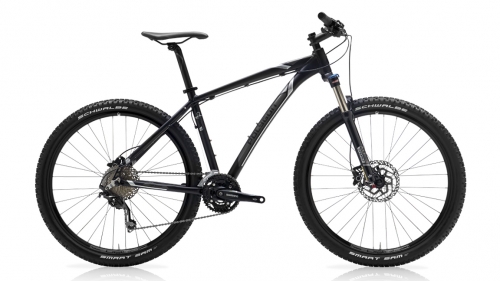 also one of these
Much the same, except the latter is 29", the former is 27.5", drive train is 40/30/22 11-36, tyres are 2.25" fast rolling knobbly tyres, Suntour XCR coil fork, which is something around the 2.3-2.4kg range.
This is for use in Indonesia where conditions are nothing like the UK. There is asphalt.
There is broken asphalt
Unsurfaced track with lots of stones, some of which can be quite steep and loose
City dwellers own carbon fibre road bikes which they ride at 5:30am before the heat and traffic, but I'm not interested in
that
.
Instead I'm thinking:
* something better for going up hills, probably on asphalt, because who wants to climb 1000 metres on an unsurfaced road
* option to go off-road in parts, e.g., say 100km on asphalt but then 5km on a completely unsurfaced road with lots of large stones and steep descents
* luggage for touring, possibly a tent etc. but not too much -as tropical weather & lots of hills to carry stuff up.
I'm thinking:
* buy carbon MTB fork and give it a go with that for a while on the 29er? Should save almost 2kg. I've noticed a lot of road cyclists are very much stuck to the road & can't get to the interesting places, but then they obviously get up the grades that much faster, and perhaps sometimes 5km on a horrendous surface is as much work as 30km on asphalt
* stick an air fork on the 27.5" and try and make that a purer MTB.
* get some touring tyres & give it a go? Not completely sure this is a good idea as the original OEM 'Smart Sam' knobblies were quite sketchy on some surfaces, let alone 'touring tyres' - though I suppose you can't have everything, so if I was going a more MTB route I'd just go with that.
I could build up a new bike, alternatively, not sure what though. Obviously if I had a set of spare wheels, fork, etc., then that's part of a bike. If I had a 'road bike', I couldn't go
anywhere
without encountering at least maybe 200 metres of very broken road, but realistically a lot (most) of the time I'm just going to the next town (7 miles each way) which is 6.5 miles of asphalt, and only 0.5 mile cobbles, etc., and avoiding the off-road route because it's dark/raining, etc. So something that is light and easy rolling would be a nice option
every day
, esp. as there's a 1% gradient the whole way.
I'm not at all opposed to 'more bikes', as I have people who could use them, bikes needs new parts, sometimes, etc., so an extra bike is no problem as long as it is not useless, as a 23c racer would be.