For Sale
This is my daughter's track bike, it's a Ribble Eliminator in (sparkling) Ruby Red, with a frame size of Small (52.5cm).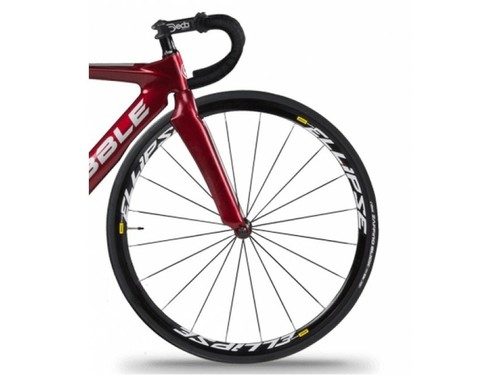 (stock photo above)
This track bike is for sale on ebay to keep the purchaser and myself safe, using Paypal for payment.
EBAY (item: 193023721621):
https://www.ebay.co.uk/itm/193023721621
If you're interested and do not wish to bid, please use the 'make offer' button to suggest a reasonable price.
---
A track bike (for those that aren't sure) is designed to be ridden on an indoor or outdoor cycling track, it has no brakes and the pedals/wheels are fixed together, there is no freewheel, therefore it is not designed to be ridden on the road.
It's an excellent sport and this bike is perfect for a 13+ junior (it's adult sized).
It has a carbon frame, forks and seat tube, along with some rather nice Mavic Ellipse track wheels and Deda Pista handlebars (with Deda Cork ribbon tape).
The stem is also Deda, it's a Pista track stem at 100mm.
The seat is a comfortable Selle Italia X1 Flow Saddle, which I understand is pretty comfortable.
Optionally, I have a number of Miche Advanced Track chainrings, please ask if you're interested and I can provide them for a good price.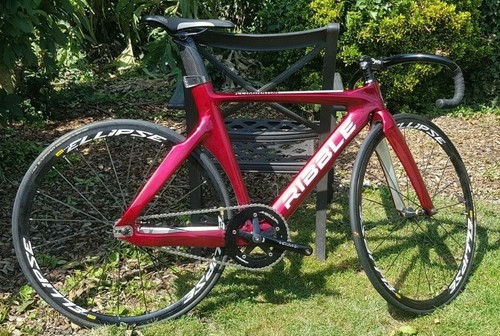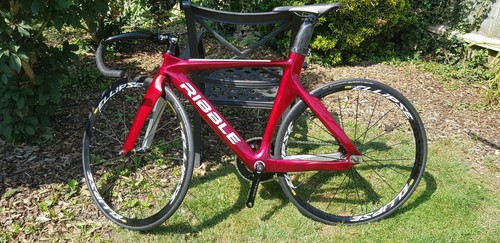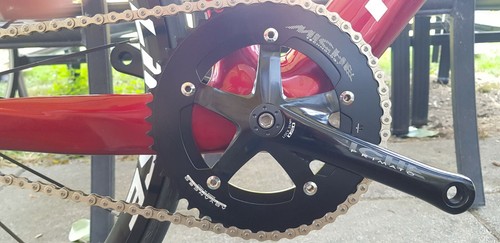 Reason for sale
My daughter worked hard to qualify and become track accredited, however racing never took off and instead she put her time in to Duathlons and Triathlons instead.
Condition
The bike has hardly been used and is in great condition.
Payment
ebay (make me an offer or bid) - Paypal only
https://www.ebay.co.uk/itm/193023721621
Delivery
I'm able to deliver within 10 miles of Huntingdon for free, or for a small fee I can deliver up to 50 miles.
Specifications
Ribble Eliminator BBELIM
Eliminator Track Frame Ruby Red S (52.5)
1 x Ribble Eliminator Track Frame Ruby Red S (52.5) RIBBFRAK205RURDB000S
Eliminator Track Forks
1 x Ribble Eliminator Track Forks RIBBFORK205000000000
Primato Advanced Track Chainset Black 165 48T
1 x (upgrade) Miche Advanced Track Chainset BCD 144 - 7075 - 51T
Sprocket Track (incl. Carrier) 1/8" 16T
1 x Miche Sprocket Track (incl. Carrier) 1/8" 16T MCHESPTR200000018160
Z510 1/8 Track Chain Silver
1 x KMC Z510 1/8 Track Chain Silver KMCACHAI700SI0000000
Primato Track Bottom Bracket Eng BS68-110mm
1 x Miche Primato Track Bottom Bracket Eng BS68-110mm MCHEBTBR200000081100
Ellipse Track Wheelset
1 x Mavic Ellipse Track Wheelset £200.00 MAVIWHFT207000000000
Zaffiro Slick Rigid Tyre Full Black 700x23mm
2 x Vittoria Zaffiro Slick Rigid Tyre Full Black 700x23mm VITTTYRR402F60070X23
Cork Ribbon Handlebar Tape Black
1 x Deda Cork Ribbon Handlebar Tape Black DEDAHBTP200BK0000000
Pista 31 OS (Track) Handlebars 42cm
1 x Deda Pista 31 OS (Track) Handlebars 42cm DEDAHBAS2000000042CM
Zero 100 Pista Track Stem Black 100mm
1 x Deda Zero 100 Pista Track Stem Black 100mm DEDAHBSK115BK00100MM
Headset Spacers Alloy 1 1/8" Black 10mm
3 x Trivio Headset Spacers Alloy 1 1/8" Black 10mm TRIVHSTZ200BK00010MM
X1 Flow Saddle Black/Silver
1 x Selle Italia X1 Flow Saddle Black/Silver SELLSADD192BK0000000
Inner Tube 700x18/25 LV60mm
2 x Vavert Inner Tube 700x18/25 LV60mm VAVETUBE200000078560
Headset 1 1/8 - 1 1/8 Hidden 45x45 46mm
1 x ITM Headset 1 1/8 - 1 1/8 Hidden 45x45 46mm ITALHSTR200000000000
Thank you for viewing and hopefully this will find a great new home