The new track bike our olympians will be riding next year.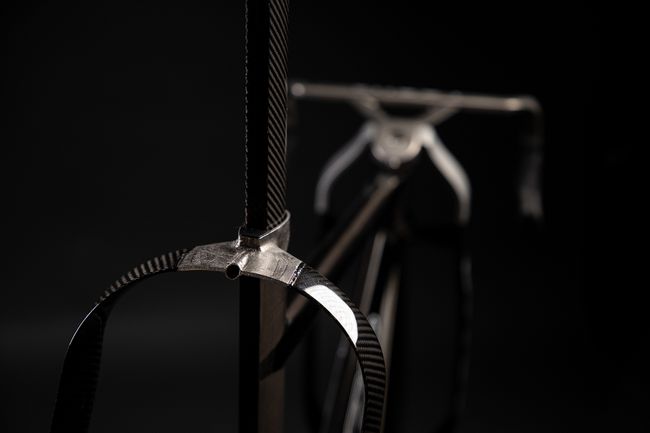 https://www.cyclingnews.com/news/lotus-and-hope-launch-radical-new-track-bike-for-2020-olympics/
At the last count:- Focus Variado, Peugeot 531 pro, Dawes Discovery Tandem, Dawes Kingpin, Raleigh 20, Falcon K2 MTB dropped bar tourer, Longstaff trike conversion on a Falcon corsa.
---
rjb wrote:The new track bike our olympians will be riding next year.

https://www.cyclingnews.com/news/lotus-and-hope-launch-radical-new-track-bike-for-2020-olympics/
Isn't that just form following function? And one must remeber - a bike is not a frock (unless it's a Pinuprello with a MAMIL on it).
Cugel
---
Attended a talk with Mike Burrows a few weeks ago. He was really quite insistant Lotus had pretty much 0 to do with designing Bordmans bike. Wonder who really designed it.

When you listened to Mike, this bike doesn't look that radical at all. He strongly suggested that if you want to be lighter, stiffer, more aero with carbon, then a mono fork is the way to go. Giant wouldn't do it when he was there and Cannondale got a lot of strange looks for it.
He mentioned trying to get Hope to design a braking system where the disc and calliper remains on the fork and just the wheel is changed, like a car wheel comes off the braking system when you remove it for rapid wheel changes on a race bike (not relevant to track, but this is now he sees innovation).

Oh well. The UCI will ban it no doubt. Something about 1 to 3 width ratios or something will appear.
Supporter of the A10 corridor cycling campaign serving Royston to Cambridge
http://a10corridorcycle.com
. Never knew gardening secateurs were an essential part of the on bike tool kit until I took up campaigning.....
---
The front ends of pursuit bikes (those nasty double-decker handlebar arrangements) have ben fugly for years.
I've stopped caring - this thing makes no difference. Luckily track racing is pretty damn exciting, ugly bikes or not.
---
Maybe this is misleading propaganda and the real bike is under wraps and further development, whilst other nations waste time trying to copy it.
---
It is as ugly as sin itself but there is logic in the design. It appears to take the 'wide fork' designs seen previously on one stage further. Interestingly the design probably allows a small amount of vertical compliance (in both fork and seat stays) which might not be a big deal on the track (unless tracks are bumpier than I remember) but would be of benefit on the road. The fork and stays possibly also act to stabilise the airflow, much as 'fences' on F1 cars do.
British cycling are obliged to use things which are 'commercially available', which means that to make things manageable, they would choose to make frames or wheels (whichever offers the most gain for the least effort) one at a time rather than both together with some kind of a novel interface. Sticking with a conventional wheel interface allows you to mix and match; not every rider will like any given bike and since what goes on between the ears is important, if they don't like it for whatever reason, they probably won't go as fast on it; not every rider used the 'wide fork; designs seen previously and this was probably the reason.
FWIW asides from the, er, 'challenging' looks there are good reasons why the single-sided fork has not taken over the world;
1) unless you include suspension, it is nigh-on impossible to make a monoblade have any vertical compliance whilst still keeping the wheels in line. The practical effect of this is that monoblades either give steering deflection when you go over a bump, or are really uncomfortable to ride on. Some do both.
2) Most of a conventional bike frame has a certain amount of redundancy. For example apart from the steerer, any one tube in a conventional diamond frame can break and it probably won't kill you. Ditto hub axles. If you look at how steerers are engineered, in many cases it is clear that they have been designed for good fatigue resistance, owing to the critical nature of that part. In a monoblade (including the hub) every part ought to be virtually failsafe, not just the steerer.
cheers
-------------------------------------------------------------------------------
~~~~~~~~~~~~~~~~~~~~~~
Brucey
~~~~~~~~~~~~~~~~~~~~~~~~
---
It's a tool to do a job,looks don't come into it,it's all about winning.
-----------------------------------------------------------
I cycle therefore I am.
---
If it wins it will be a good bike.
There are not many good looking F1 cars, but the ones that win are hero worshipped.
Boardman's famous bike was originally derided as fugly. Until it did the job.
---
---