Posts: 404
Joined: 21 Oct 2008, 9:01am
I saw this bike at a local auction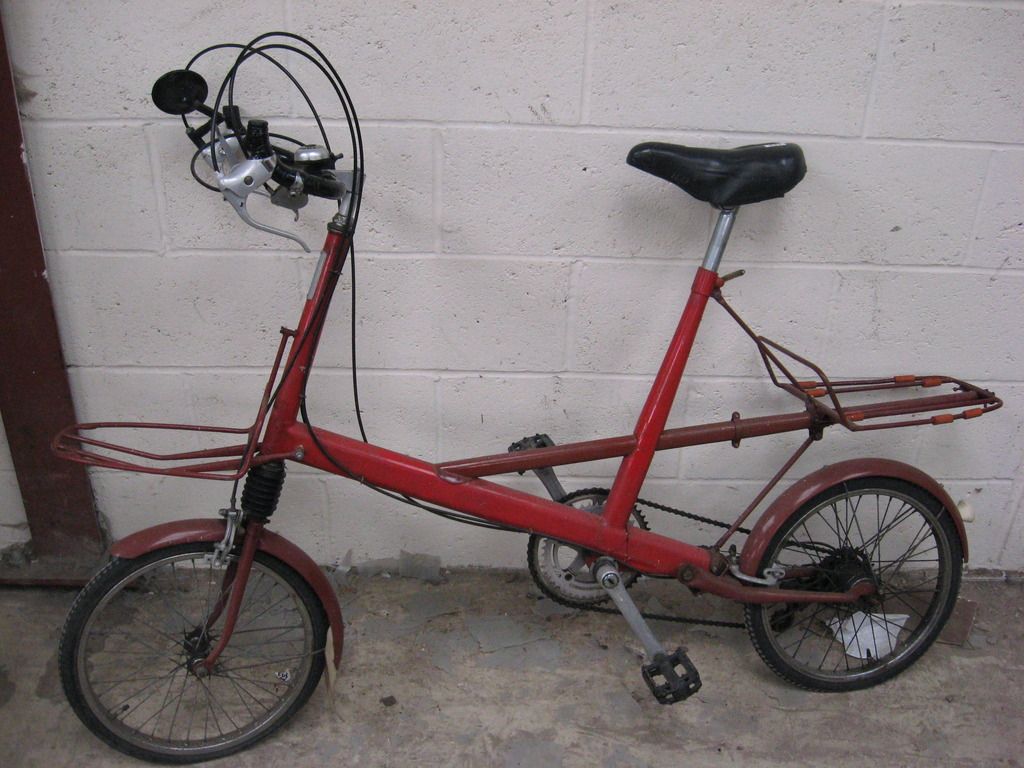 [imghttp://i1305.photobucket.com/albums/s546/OldGreyBeard59/IMG_0296_zpsdeudhosg.jpg][/img]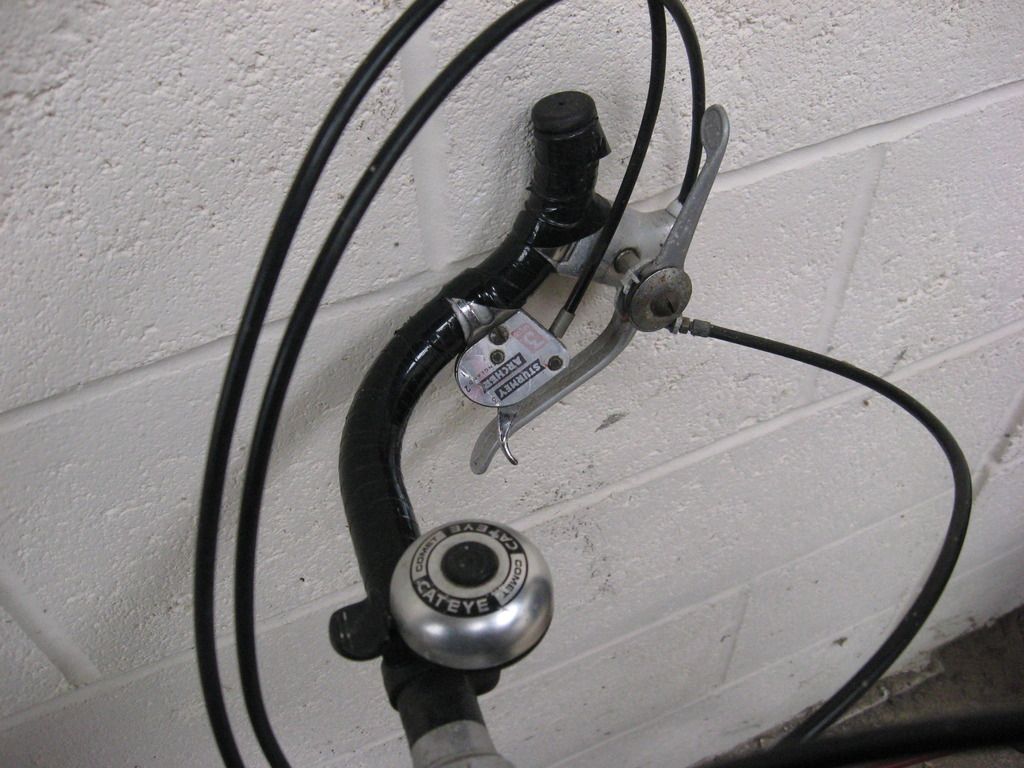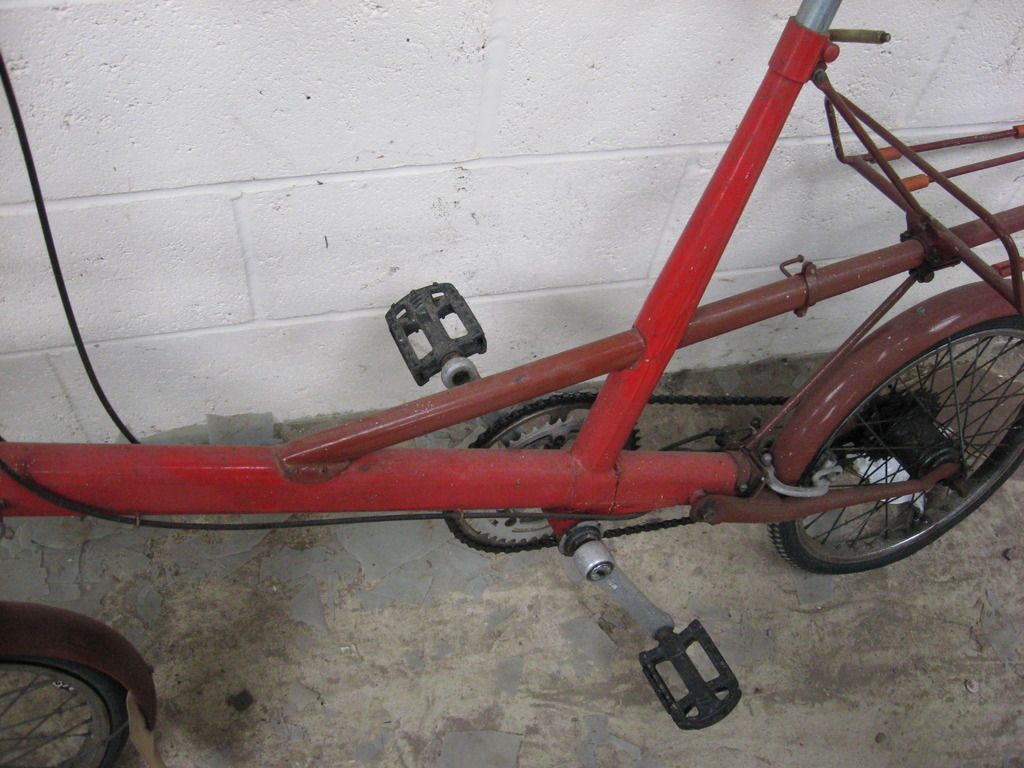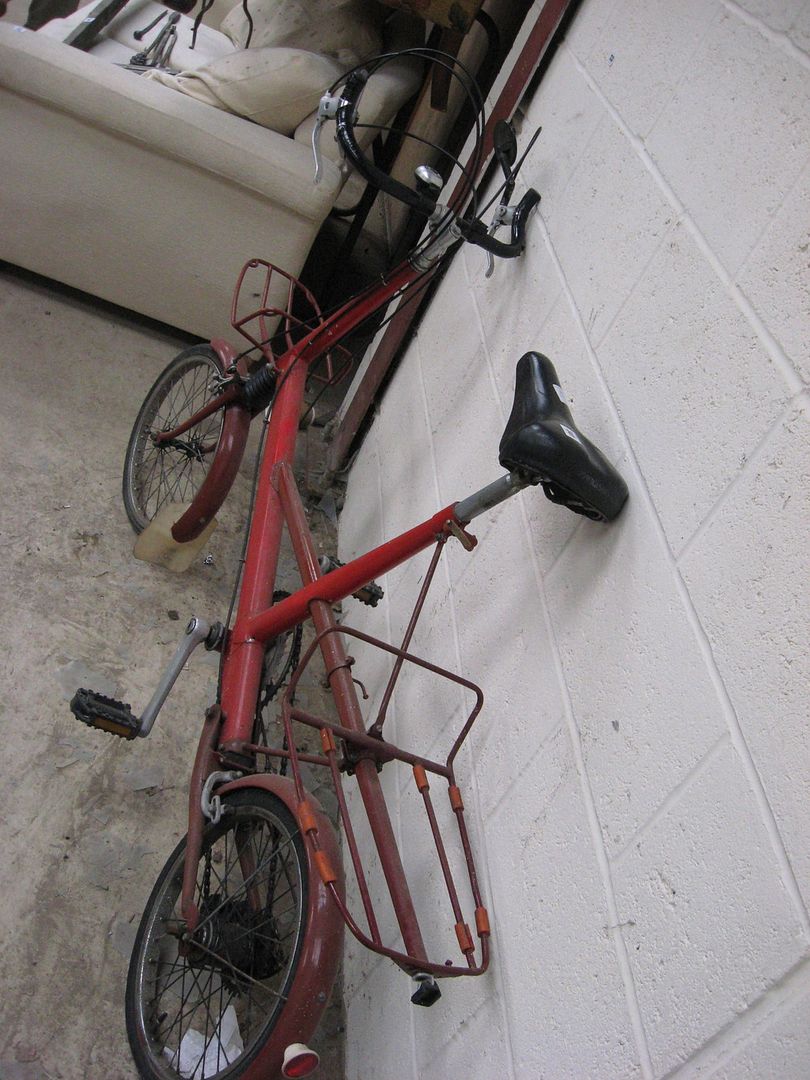 Just look at the gears: Sturmey Archer 3 speed and 4 speed derailleur.
Dawes Galaxy 1982; Raleigh 3 speed 2007; Brompton M6R 2006
One of the most important days of my life was when I learned to ride a bicycle - Michael Palin
---
OldGreyBeard wrote:

.
ftfy
there's a double chainset as well, so 24 gears in total; guaranteed confusion!
cheers
-------------------------------------------------------------------------------
~~~~~~~~~~~~~~~~~~~~~~
Brucey
~~~~~~~~~~~~~~~~~~~~~~~~
---
Posts: 404
Joined: 21 Oct 2008, 9:01am
But no mechanism for the chainset!
Dawes Galaxy 1982; Raleigh 3 speed 2007; Brompton M6R 2006
One of the most important days of my life was when I learned to ride a bicycle - Michael Palin
---
Having gone down that route with my Raleigh Chopper, I can confirm it's a bit confusing (at first) with more than one "gearbox".
I had a 3sp SA and two cogs, plus a double chainwheel. I got the hang of it eventually, and it worked very well indeed. Versatile and challenging and interesting all at the same time.
52/42 chainwheel
3sp SA
28t + 18t sprockets.
A choice of 12 gears in all.
Top gear was 76.8"
Bottom 22.5"
I needed that low bottom gear. The Chopper on its own weighed 44lbs, and add on my fully loaded trailer and it could only be described as a leviathan!
Mick F. Cornwall
---
I think the derailleur / SA combo used to be quite popular back in the 60s... I think it was made either by Daccon or Cyclo (I'm sure an expert will be along here shortly!)

My first two wheeled recumbents bent, a Pashley PDQ, had no less than 63 gears: a Sachs 3x7 hybrid gear at the back, and a triple on the front. Changing chainrings was a manual affair, however. The HP Velotechnik Scorpion trike has a factory option of 81 different gears: 9 speed derailleur, 3 speed SRAM Dual Drive hub, triple chainset up front. There tends to be plenty overlap but it is a way to get absurdly low (8") and high (150") gears on one machine.
---
-------------------------------------------------------------------------------
~~~~~~~~~~~~~~~~~~~~~~
Brucey
~~~~~~~~~~~~~~~~~~~~~~~~
---
Posts: 404
Joined: 21 Oct 2008, 9:01am
There was me assuming that Brompton were the first with the derailleur/hub gear combo
Dawes Galaxy 1982; Raleigh 3 speed 2007; Brompton M6R 2006
One of the most important days of my life was when I learned to ride a bicycle - Michael Palin
---
some more info;
Also see
http://www.sturmey-archerheritage.com/index.php?page=history-detail&id=461
for some details of a 35000 mile round the world trip using that type of gear. He appears to have used a 2x3x3 = 18 setup.
speedsixdave wrote:From 'The Moulton Bicycle' by Tony Hadland, 1981

"vi) Interchangeability of Sturmey-Archer Hubs — Many of these gears (but not all) are interchangeable. For instance, the S5, AW, FW and AM can all be used in the same hub shell. This is very useful because a new rear wheel is not necessarily required if you wish to change to a different type of hub gear.
vii) Sprocket Sizes — Sturmey-Archer and Fichtel & Sachs three lugged sprockets are interchangeable (as are Shimano, Puch and several coaster brake manufacturers' sprockets). Sturmey sprockets range in size from 13 through to 20 and 22 tooth. Fichtel & Sachs make 14 to 22 tooth and also make a 12 tooth sprocket which is marketed solely for use with the Torpedo Jet coaster brake. The spacer washers used with hub gear sprockets are too large to permit the chain to wrap round the latter sprocket correctly but, if this problem could be overcome, the 12 tooth cog could be used with hub gears. (Remember that Moultons produced their own 11 tooth hub gear sprocket for John Woodburn).
The 12 tooth sprocket is not imported into the U.K. but can be supplied direct by the German factory in batches of 10 at 75p each. (1981 price). It can be fitted to the Perry Coaster B500 hub used on the 'Continental' and early 'Stowaways' in order to give a 69" gear.
F & S sprockets from 16—22 tooth are dished as are S—A sprockets from 16—20 and 22 tooth. The S—A 14 tooth sprocket has been produced in dished form but currently appears to be made only in the flat version. 3/32" S—A sprockets can be obtained from Morris Vulcan (Sales) Ltd., who make the Bickerton cycle. (Normally they are 1/8").
viii) Conversion of Sturmey-Archer Four Speeds to Five Speed Operation As explained in Chapter 5, inside every four speed hub is a five-speed trying to get out. This conversion is not recommended by the makers, no doubt for product liability and commercial reasons, and certainly should not be attempted by the unskilled. However, in the right hands the conversion works extremely well as I can vouch from personal experience.
Jack Lauterwasser will generally be able to carry out this work to any Sturmey-Archer four-speed hub in reasonably good condition (except those fitted with integral Dynohubs) for approximately £4 (1981 price) plus postage and packing. This does not include provision of the second control cable, trigger or cable stop (fulcrum clip) which are standard items. Jack has recently evolved a unique left hand changer coupling which is extremely smooth in operation and has a quick-release cable attachment.
ix) Derailleur Converters for Hub Gears — These consist of multiple sprockets attached to a hub gear to give a wider choice of gearing. Thus a three speed derailleur allied with a five speed hub gear will give fifteen gears although it will not usually be possible to select all fifteen in sequence. Furthermore some gears may be so close that they are effectively the same (i.e. within 2").
The following converters are available;
Cyclo — This firm once made a two-speed converter (13 + 15T) specifically for use with the Moulton as did Gian Robert. Cyclo still make converters but the only unit suitable for Moulton use is the three-speed (16 — 19 — 23T) which can give useful touring ratios if used with an S5 hub gear. (See bracketed sections of S5 gear tables).
Cyclo converters are designed for use with the original chainwheel and 1/8" chain. The multiple sprocket unit simply clips on to the gear in place of the usual single sprocket A compact but robust rear changer mechanism is required and I have found the Huret Allvit suitable. Some 1/8" chains work perfectly well with this gear but the rivet width of 1/8" chains varies quite considerably so this is a point worth checking (but note that some cycle dealers will tell you, incorrectly, that no 1/8" chain will work with a modern rear derailleur changer). The standard chain will need about ten additional links to run around the changer mechanism and the removable Spring link should be dispensed with for smoother running. Consequently purchase of a suitable riveter/rivet extractor is recommended (e.g. the Cyclo Rivoli) Some filing of the rear mechanism hanger plate will Probably be necessary in order to fit it to the standard Moulton rear forks and the hanger plate retaining bolt may not fit. This may present a problem if you often need to remove the rear wheel and a brazed on hanger plate would be a possible solution.
Ernest Rogers — This Californian bicycle engineer produces limited numbers of a special driver unit for Sturmey Archer hubs which will accept no less than five Regina 3/32" Derailleur sprockets It is then necessary to use a 6 5/16" axle for the Sturmey Archer gear and the standard rear forks will require some springing out. This could be difficult (but not impossible) with 'Series Two' forks which are very rigid.
The Rogers unit basically consists of a Regina outer block brazed on to a sawn-off SturmeyArcher driver.
The brazing is a possible disadvantage but the unit is fairly cheap (about £10 plus cost of sprockets in 1981) and has the advantage of wide gearing Options and the use of a modern 3/32" low friction chain. This will, however, necessitate not only a new chain, sprockets and rear mechanism but also a new chainset.
Danish Converter — A special driver for Sturmey Archer gears which will accept four 3/32" Sun Tour Winner sprockets (15 — 30T) is produced in Denmark. It is quite a costly unit (about £22 including postage in 1981), the sprockets being extra. As far as I know no brazing is involved but it is probable that a long axle would be required for the hub gear. Otherwise the advantages and disadvantages are broadly as for the Rogers unit.
The Danish converter appears to be reliable having been used by Scandinavian cyclists for a round-the-world tour. The unit can be obtained via Finn Wodschow of Copenhagen.
Other Units — From time to time limited numbers of other 3/32" converters are produced by certain bicycle engineers. One of these uses Maillard sprockets with the obsolete Sturmey-Archer threaded sprocket driver units
According to D.W. Naylor, a Moulton owner from Workington, these drivers will accept a pair of standard fixed wheel sprockets in which case no further conversion is required. (See letter to 'Cycletouring', October 1981)."

from
http://forum.ctc.org.uk/viewtopic.php?f=5&t=18880
cheers
-------------------------------------------------------------------------------
~~~~~~~~~~~~~~~~~~~~~~
Brucey
~~~~~~~~~~~~~~~~~~~~~~~~
---
---