There are a fair number of bikes out there, (notably Gazelles, but there are others too, mostly hailing from the Netherlands or from Germany, nearly always of a 'sit-up and beg' flavour ) which use a Thompson-style BB shell into which a special bottom bracket is pressed.
Originally I think this frame design was meant to accept Ashtabula style steel cups, but with a three-piece crank/BB spindle, either cottered or square taper. Typically the RH 'cone' is part of the BB spindle and the LH cone is threaded onto the axle with a tab washer and locknut (again similar to Ashtabula). Like this (in which picture the left and right sides are swapped I think);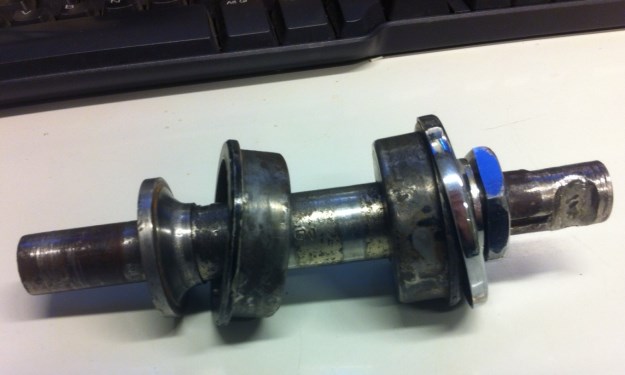 For a low-cost adjustable bearing, this gives in a decent enough result. However the screw thread, the groove for the tab washer etc in the BB spindle often makes for a spindle that has a poor fatigue life.
On these machines the BB shell is traditionally a plain bore if the frame is steel, but if the frame is aluminium, only the ends of the BB shell are machined to the nominal diameter; the centre of the BB shell may be about 8mm smaller diameter.
There are several 'standard diameters' for the press-fit cups; I have seen 35mm, 38mm, 40mm, and at least one larger size yet (around 43 or 44 mm). Possibly there are many different shell widths too, but even without that there are bound to be variations simply because these machines are usually fitted with a chaincase, and the mountings for that are part of the BB assembly; typically there is a pressed steel bracket that is sandwiched between the RH press-fit part and the frame, or the mountings are actually integrated into the RH cup assembly. Either way there can be special parts involved.
Now, 'Trapas' is the Dutch word for 'bottom bracket'; you can get an idea of what you might be in for, if you do an image search for 'gazelle trapas' eg
http://www.bing.com/images/search?q=gazelle%20trapas&qs=n&form=QBIR&pq=gazelle%20trapas&sc=0-0&sp=-1&sk=
which shows you that there are very many types, few of them similar looking to others.
In more recent times the traditional adjustable cup and cone bearing design has been replaced by various styles of cartridge bearing unit, usually mounted in plastic cups. Now, when I saw this, I thought 'great, that way there can be a standard diameter/length for the BB cartridge within the cups and provided you have the correct spindle length, it may be possible to use the old cups with a new centre cartridge'. Indeed, I have managed to do this a few times.
However there are problems; the cartridge is often located by lips on the cup which engage with a groove in the cartridge unit. Once the cartridge unit is knocked out of the cups, the lips are lost/damaged and the location is compromised. I guess you can overcome this by using some adhesive/bonding agent but it is hardly ideal.
For the last year or two my utility bike (a Gazelle which has this style of BB) has been grumbling in a way that suggests that a new bottom bracket was definitely in it's future. I wasn't overly stressed by this prospect because it appeared to be 38mm dia and a style that is used on many Gazelle models. When there was just a small amount of play in the bearings, the bike rode normally enough.
I tried to stave off the inevitable by adding lube from time to time too, but I realised there was a fundamental problem; there is no drain hole in the BB shell, and water was finding its way into the frame somehow. I didn't realise how bad this was until one day when I went to ride the bike and it did what I can only describe as 'a generous but rusty wee' on my feet as I unlocked it. It seemed clear that the bearings would be swimming in water and that this would hasten their demise.
Eventually the bearings started to knock loudly in use and then I didn't want to ride it much; the bike sat unused (whilst I rode around on others), with weeds growing through the spokes, waiting for me to gather up enough enthusiasm to fix it.
I finally set to the other way; everything went swimmingly to start with; the cranks came off OK, the chaincase came off OK. Then I noticed that the RH plastic cup had integrated chaincase mounts for the Hesling chaincase; in this case two M5 threaded bosses that accept stainless steel screws. 'Oh... that'll be awkward...'
Mine looked (almost, but not quite, obviously...
) like this;
Actually removing the BB unit is simple enough; the usual method is to support the frame (eg using blocks of wood) each side of the BB shell (choose carefully, you might damage it) and then getting the big hammer out. This may seem brutal but AFAIK (although there is one for installation, which you don't really need if you have some big sockets or similar), there is no 'special tool' available for this extraction job. I guess one cup could be broken up, cut away or melted out, but I don't advise that; the reason being that if hammering works, the cups come out in one piece and you might need to re-use the cups if they are a weird size. In this case I definitely wanted to re-use the RH cup because it had the chaincase mounts built into it. [Note that you cannot remove the BB unit without the hammer loads passing through the bearings themselves; between this and the changes in the press-fit, it isn't a good idea to remove these bearing units with the aim of re-using them.]
Once the BB was out found what I expected to find; a 'Kinex' cartridge unit. These don't have separate cartridge bearings per se; they usually have an outer race ground into the cartridge shell, and similarly there are grooves in the spindle in which the ball bearings run. There are usually seven or eight balls of about 3/16" or 7/32" size in each bearing, often spaced using an acetal spacer. With care, you can sometimes remove the spacer, disassemble the bearings and replace the balls etc. However this is pretty much always a waste of time; the most likely thing is that the spindle is worn and once this starts there is no stopping it.
Now, I'm lucky enough to live not far away from several LBSs that keep some stocks of these bottom brackets, and have suppliers that can supply more of them. So I wasn't all that worried as I set out to find a replacement; sure, the cups were weird but I'd expect to find a centre cartridge that'd fit my cups, like I had done previously...?. Several hours later, I was a little wiser; I'd examined many, many, such press fit BB units without finding an identical replacement. As well as the expected variations in axle length, axle type, press-fit diameter, chaincase mountings etc I found that the centre cartridge also varies in diameter and length, even from the same manufacturer (Kinex, Thun, Sun Race etc). I found centre diameters of 28, 29, 30, 31mm, with multiple cartridge body lengths for each.
So for now, I'm a bit snookered. I've got a couple of worn units of the correct type (which can't be rebuilt) and I don't want to fit those if I can avoid it, because that will soon knacker the cups, which I'm even less likely to be able to replace. If I was sure that I'd be able to (say) get a 30mm dia cartridge in the future, I guess I could machine the cups out to accept that size, but even that is uncertain.
I suppose I could (in this case) machine up a BSC-threaded sleeve and weld or bond it into the frame, because it has a plain bore. [NB This approach is not readily possible with aluminium frames, because they generally don't have a plain bore.] But even that isn't going to be a smooth ride because the chaincase mountings will need to be remade.
Gah.
BTW in case you are wondering how it is that the phrase 'Thompson-Gazelle' seems strangely familiar, it is because there is such a thing as a 'Thomson's Gazelle';
It occurs to me that there is about as much chance of one of those being of some use for my bike as the average bottom bracket....
cheers