There's an e-bike looking like the 2019 version of a BSO full sus bike:
And there's a conventional bike with, essentially, a built-in smartphone with 3 years' data included.
http://www.halfordscompany.com/news/cyc ... -halfords/
https://www.halfords.com/advice/cycling ... cted-bikes
According to David Kumar, Principal Product Manager at Alexa Voice Services (AVS); "Adding Alexa functionality expands the notion of "Alexa On The Go", where Alexa is available anywhere where the bike is. The combination of Alexa and Cybic enables riders to enjoy a great range of innovative, integrated bike features without their hands ever having to leave the safety of the handle bars".

Halfords is the exclusive UK and Ireland retailer of the range and it will be available in shops and online at Halfords.com from the summer 2019. Launching at the Consumer Electronics Show (CES), the range includes a hybrid, the Cybic Legend and an electric bike, the Cybic E-Legend.

Using a control mounted to the handlebars, cyclists can access an easy-to-use menu which controls all the functions.

Cyclists can ask the always-ready device many requests including for traffic updates, turn-by-turn directions, weather forecasts, as well as accessing functions such as sending messages, adding items to a shopping list and even ordering dinner with just their voice.

Product features and benefits also include:
- Access to cycling performance data including speed, time, distance covered and more
- GPS and mapping
- Personalised light settings – the bike includes built-in front, rear and handlebar lighting which can be set from the menu
- A security lock and an alarm which can be accessed via the bike's app
- Theft tracking
- A HD music player
- Vodafone sim included (three years free 3G data)
- WiFi enabled
It's not really clear if the bikes exist in any form, but it looks like there is an integrated light in each bar ends, a light sticking out of the back of the unnecessary extra bit of tubing at the back , and another just below the stem in the triangle. You can control it from the built-in smartphone, sorry 'Alexa on the Go'.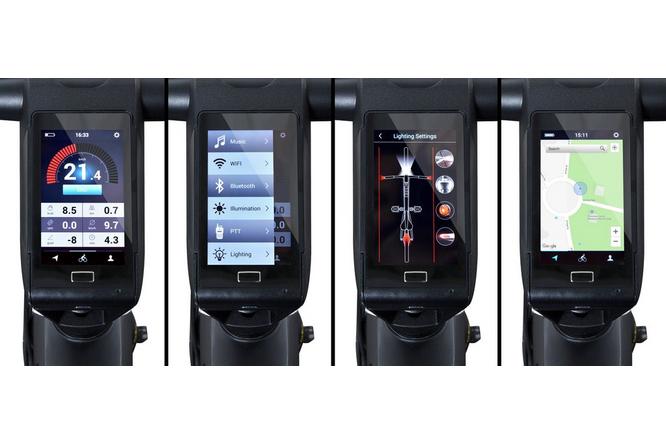 No mention or sign of mudguards or facility for carrying any kind of luggage