I've used O-rings for decades in both my hobbies and in my working life. I should know a fair bit about them by now.... even so I found myself caught out just yesterday, with a simple assembly that either would or wouldn't seal depending on selective assembly of just two choices of the three components concerned.
The assembly in question was a Zefal HP/HPX pump chuck; the 'sliding piston' part the lever cam bears against, inside the chuck, carries an 'O' ring and the oldest of my pumps had developed an intermittent leak when the cam was operated. The last time I used that particular pump it would work OK if the lever
wasn't
used (and the nut was adjusted to compress the seal slightly) but if the lever was used most often the thing would leak air.
I spent some time looking for debris in the mechanism (and found some) and also carefully examined the assembly to see if the seal was overlapping the air port in the bore perhaps; the thing has about a 2mm stroke and the 'land' inside the bore is only about 4mm wide; wear or bad tolerancing could easily be an issue. Eventually I had to conclude that these things were not causing a problem.
I've replaced the O ring in these pumps before and tbh I've just gone to my many boxes of 'O' rings and found one that looked about the right size, banged it in, and it has been OK. In over thirty years of using these pumps I have only had to change one or two O rings, and that was down to neglect or contamination with the wrong lubricant. [Quite recently I have taken to being sure to use silicone grease on nearly all O rings since this is unlikely to attack/degrade the O-ring regardless of the rubber grade used. In hindsight I have in this respect probably got away with murder previously.]
It turned out that the correct O ring is probably one that is 10mm ID, 2mm section (although it could be one that is 9.8mm ID and 1.9mm section), but that the closest size (in most of my boxes of O rings ) was closer to 1.8mm section and 3/8" ID. Close enough to work OK provided the other parts in the assembly were within a particular tolerance range. It also turned out that the lever cam also pushes the 'piston' part
sideways
in the bore (fairly obvious in hindsight) and one of the two pistons I tried was a very slightly smaller OD than the other, such that if the piston was pushed fully sideways in the bore, the side with the larger gap no longer always compressed the (slightly undersize) O ring section enough to allow a seal to be made.
One of the absolutely baffling manifestations of this was that the seal would work without grease, but wouldn't work
with
grease....
I eventually figured that for the piston to go fully off-centre, the O ring also had to slide within the groove, and did so more easily with grease present than not. I spent over an hour doing careful measurements and trying various combinations of parts before I figured the problem out; I found it hard to believe that differences I could barely measure were resulting in such a binary (work or not work, no middle ground) outcome.
Anyway fundamental problems are that
a) the world is infested with (very slightly different) standards for O rings and
b) measuring them is difficult.
On the latter point there are special tools for measuring O rings such as this cone tool;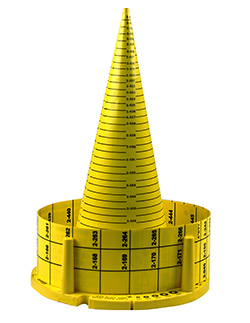 but with care, you can measure (small) new O rings with a set of Vernier calipers. If you measure a (clean, dry) O ring cross section between the flat parts of the jaws you will get close; however you may have squashed the O ring slightly (the more of the O ring you can get between the jaws the better) and it won't fall out of the jaws under its own weight until there is ~0 to 0.05mm clearance. With care you can determine the section width within ~0.1mm. Measuring the diameter is more difficult; O rings are always specified on the ID but with verniers measuring the OD is both easier and more accurate; again measuring between the flat parts of the Vernier jaws is the trick and there is a small range between 'obviously draggy' and 'loose/falling out easily'. If you think a new O ring might not be quite round then multiple measurements might be required.
Measuring used O rings is often a waste of time; they may be deformed, worn or swollen. If you can do, you are much better off measuring the grooves, diameters etc in the assembly and inferring what the correct size O ring might be. Groove design for O rings can vary with the application but the two main things are that
1) the O ring section has always to be compressed slightly in order to make a seal and
2) the O ring cross section shouldn't fill up more than 85% of the volume of the groove it sits in; this causes problems otherwise.
more useful groove design info here;
http://www.hitechseals.com/includes/pdf/o-ring_brochure.pdf
including tables which tell you how much the cross section of a 'stretched fit' O ring will reduce by.
Regarding standards, this pdf is dead handy;
https://o-ring.info/en/o-ring/Technical%20Handbook/16%20-%20ERIKS%20nv%20-%20O-ring%20Technical%20handbook%20-%20O-ring%20Size%20Chart.pdf
On the first page you can see
Standards in Different Countries Norm Cross Section (mm)
AS 568A, BS 1806; 1,78 2,62 3,53 5,33 6,99
DIN 3771 / ISO3601; 1,80 2,65 3,55 5,30 7,00
SMS 1586, BS 4518; 1,60 2,40 3,00 5,70 8,40
Japanese Norm JIS B 2401; 1,60 1,90 2,40 3,00 5,70 8,40
Metric; 1,00 1,50 2,00 2,50 3,00 5,00 10,00 12,00

i.e. that not all cross-section widths are present in all standards; this means if you have a random box full of O rings, you can narrow down the specifications to which they are liable to be manufactured. For example there is no point looking for a 2.5mm or 1.5mm section O ring in anything other than a kit made to metric standards. Note also that O rings have a tolerance on the section width; typically this is +/- ~0.08mm.
I hope folk find this post useful.
Two final points are that
1) (if needs must) you can adjust the fit of O rings (for non-critical applications) that are slightly too wide in cross-section. The method is to fit the O ring on an arbor, then spin it up in an electric drill. You can use fine wet and dry paper (with water as a lubricant) to gently abrade away material until the seal is a better fit.
2) for anything that is safety critical as well as the size being correct, you need to be 100% sure that the material is the correct sort for the application. A seal in the wrong material can be worse than no seal at all; it can fail at any time.
cheers