This post describes some operational features of the following models of hub; Sprinter 5s (1993-1998), Sprinter elite 5s (1993-1998), SRF5(W)/X-RD5(W) (2009-2016), all of which have sun pinions that are locked via 'dog locking'. Mention is also made of 'ball locking' 5s hubs as well as the S3X three-speed fixed gear hub.
Dog-locking 5s hubs use a single-sided sliding key in the axle to lock one of two sun pinions. These hubs are commonly found in Bromptons and Pashleys, amongst others. From about 1998 to 2008 5s SA hubs used 'ball locking' for the sun pinions instead of dog locking. These models were outwardly near-identical to the earlier sprinter 5s models and were variously called sprinter, sprinter elite, and Summit whilst made in Nottingham. Versions built in Taiwan were named X-RD5 and SRF5; they were retrospectively dubbed SRF5(N) and X-RD5(N) in order to distinguish them from the later (W) models. You can tell a ball-locking hub from a dog locking one by the shape of the LH end of the axle; ball locking hubs have a chamfer on the axle end, but dog-locking hubs have a square-ended axle instead.
Background:
SA filed patents for a 5s hub about ninety years ago. However the closest they came to making one prior to ~1965 was to be found in various four-speed hubs, including FC, FM, FW and FG models. Some four speed hubs were produced prior to WWII but they only started to be produced in serious quantities in the late 1940s. Like a five speed, four-speed hubs had two sun pinions, one of which was only used in a single gear, first gear. This was achieved by using a complicated control rod with lots of springs in it, which had a high preload so that they would only deflect during a 2-1 shift. This shift was quite baulky, had a false neutral in the middle of it, and required a high force on the trigger. It didn't take folk too long to work out that by implementing a separate LH control for the sun pinions, and carrying out some simple modifications, you could arrange to have a five-speed hub with an extra high gear ratio.
DIY conversions of this sort were being made as early as 1950. Arguably this conversion made the hub more reliable; the complex and delicate 4s control rod was gone, replaced with a simpler, more robust AW style system on the RH side. In the case of a converted FW/FG hub, even with no LH control fitted, gears 2,3,4 would be accessed using the RH control, just as in the 'bulletproof' AW three speed. The quirky sun-swapping shifts (2-1, 4-5) were not required on a regular basis, and with a little practice could be 'fed in' without too much trouble. I have happily used a converted FW for many tens of thousands of miles.
In 1965 SA launched the S5 hub, which was little more than an FW with two separate controls, the LH one being a pushrod, operated via a bellcrank. Surprisingly this remained the most sophisticated hub gear in production, until about 1990. In the late 1970s this was revised to the S5-1 model, with a pull chain on the left side. Unfortunately the springs were not the correct rating and sun slippage was almost inevitable with this hub. There were also problems with the new aluminium hubshells. S5-1 models were upgraded to S5-2 specification (using different springs) and finally the axle was revised in 1988 to a design that (like converted FW and S5 hubs) made it virtually impossible to engage both suns at once; prior to this final revision to S5-1 and S5-2 models in some cases the engaged sun pinion was only pushed out of engagement by a spring, whilst the newly engaged sun could be positively moved into engagement via the shift mechanism. If the spring failed to do its job for whatever reason, both suns could be enaged at the same time, which is incredibly destructive; far higher torque values than normal are easily generated this way.
S5-2 hubs were basically OK, but presumably because of S5-1 problems they were viewed with some suspicion by cyclists and the cycle trade alike. Latterly these hubs were supplied with a large plastic shifter -seemingly inspired by Lego 'Duplo' blocks- which had two cables coming out of it, so that it would be simpler to operate the hub. The shifter basically worked, looked (and felt in use) quite horrible, but it was a good enough scheme to be used by Sachs too (I don't know who copied who).
In 1991 the final twin-toggle SA 5s hub was produced; the 'five star' hub. This instantly developed an appalling reputation; the worst of this was caused by a faulty batch of sun pinions, which when they broke, had the unfortunate habit of causing parts of the internal mechanism to exit abruptly via the hubshell, where no hole should be. [If you imagine the 'chestburster scene' in the film 'Alien', played out with hub gears, this isn't far from the truth...]. Very occasionally you still see failures of this kind, where hubs slipped through the recall net. This hub had some other unfortunate design features, including cantilevered planet pinions. However few of these hubs did enough miles for these features to manifest faults as a consequence. The reliability problems did nothing except cement the bad reputation of SA 5s hubs in many people's eyes.
However it is worth noting that the 5-star hub did (for good or ill) introduce some new parts to SA designs; first use of a 'skinny' control rod in modern hubs (on the left side), and first widespread use of a new driver and sliding clutch type that forms the basis of the NIG three speed designs. In fact the 5-star hub had NIG operation in 2-3-4 shifts, but still had a false neutral in 2-1 and 5-4 shifts; a single key was used to lock the sun pinions and this was slightly narrower than the gap between the sun pinions, so that it ought to be impossible to engage both at once.
Single toggle 5s designs.
Faced with problems such as those found with the 5-star, in times past SA would have either carried on obstinately making an old design, perhaps gradually improving it, or would have given up on the whole idea. I expected them to do one or the other thing with the 5-star hub, but I was slightly baffled by the whole business tbh; I'd already done several tens of thousands on miles on a converted FW and I was struggling to see what real benefits there might be in any of the designs which had been intended to better this approach.
So imagine the surprise which greeted the 1993 'sprinter' 5s hub; a single cable design, but one which somehow managed to lock either sun pinion as required and therefore boasted five gears. The duplo twin-cable shifter was gone, replaced with a slightly less naff looking but equally plasticy affair. The sun pinions were locked with a sliding key and the simplicity of the S5/converted FW design (which has just two springs to control both clutches) was replaced with a cunning arrangement which required no less than five (!!) springs to make it work. Since I was happily using my converted FW hub I didn't take the plunge myself, but if that had broken, I might have.
Outwardly the 'sprinter' didn't look any more complicated than a 3s gear, and was almost as simple to use. However sceptical, hard-bitten folk with long memories drew sharp intakes of breath when they saw the internals and struggled to see how the thing worked at all, leave alone how it might be reliable in the process.
IRRC Chris Juden tested an early example of this hub and found that he couldn't reliably engage all five gears unless the hub was adjusted to a non-standard internal clearance (RH cone adjustment) setting.
The sprinter 5s had full NIG operation, which meant that there was no false neutral in the hub. However with a bi-directionally loaded sun pinion (ie the same gear train is used to increase as well as reduce) that uses simple locking, NIG operation requires that both sun pinions can be locked at the same time. Hopefully this is momentary, and the shift is soon completed, but such shifts are not especially smooth. I have never ridden one of these hubs which had a 'smooth' 2-1 shift, and this is the reason why.
In about 1997/1998 SA revised the design to allow 'ball locking' of sun pinions. This is a clever system (with smoother shifting) but ball-locking hubs turned out not to be especially reliable; it is beyond the scope of this article to delve too deeply into 'why?'. However it is often assumed that the ball-locking arrangement simply isn't strong enough. I think this is half-right; it certainly isn't strong enough to survive fault conditions which includes having two sun pinions locked at once! Unfortunately bad shifting technique and/or bad adjustment of the hub allows this condition to arise and the result is that the ball-locking mechanism fails. It fails at loads which are many times the normal service loads, but it isn't clear when the parts are examined that both suns were locked at the same time, or that one sun was partially locked; also, dog-locking hubs usually make horrible noises when things are going wrong and ball-locking hubs tend not to (not in the same way). [FWIW I have used a ball-locking 5s hub in a utility bike for about 10000 miles and it saw enough torque to challenge the NTW arrangements but the ball-locking mechanism was fine.]
So by 2009 SA had decided that they needed a wider range to their 5s hub (quite why I don't know; IGHs are mainly sold in flattish countries) and decided to have another go at dog locking of the sun pinions. The result was the (W) series of 5s hubs. The spacing of the middle gears is about the same as in an AW hub, so one advantage (slightly closer gear ratios) in the older 5s hub was lost. The (W) hubs use an axle that looks a lot like the first sprinter 5s axle, but with a beefed-up key. At about the same time the S3X (fixed gear 3s) hub was produced. [This is not a coincidence; the S3X internals are very similar to the (W) 5s internals, using gear ratios which correspond to gears 1,2,3 in the 5s hub. Sensibly this allows two low gears for climbing as well as an efficient direct gear for riding on flat roads.]
To get the wider gear range in the (W) hub required different planet pinions and SA took the opportunity to revise the planet cage design to a riveted 'Atlas' assembly which cannot be disassembled. The (W) hubs have markedly inferior quality bearings on the planet pinions. These may limit the service life of the Atlas assembly to about 20000 miles; the weaker planet pinion bearings (on the RH side) see high load in gears 1,2,4,5. Even with better lubricant inside the hub, wear is inevitable. Having said this, I have yet to see one badly worn out in this way; normally the hub has broken for another reason first. The (W) internal is a different length from the earlier hubs and it isn't possible to swap (W) internals for other single-toggle 5s ones.
Anyway the operation of the sliding key (dogs) in these hubs is more than a bit weird. The same (secondary) sun pinion is locked using the same part of the key, in gears 2,3,4. This is despite the fact that the key must move almost 8 mm in these shifts and there ought to be so much relative movement of the sun vs the key to make engagement impossible. The clever way this is addressed is to allow the sun pinions to move slightly. In gears 4 & 5 they are in a leftwards position but as soon as the main sliding clutch moves away from the planet cage (4-3 shift) the sun pinions can slide rightwards by about 2mm to a new position that is used in gears 3,2,1. This movement is enough to allow the secondary sun pinion to remain locked by the same dog in gears 2 and 4.
The key looks like this;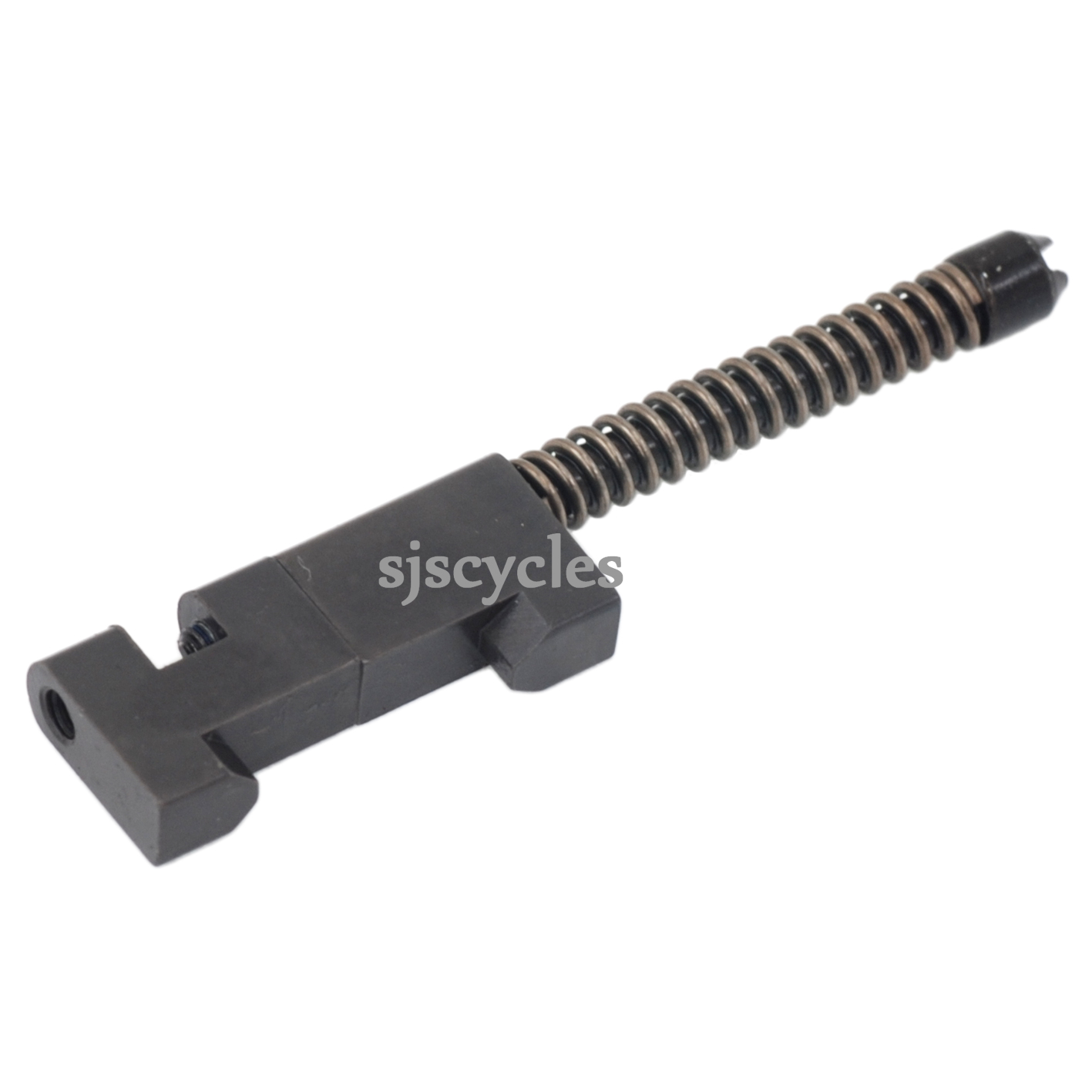 HSA663 for (W) hubs NB the part is mounted in the hub with the key spring leftwards.
And is loaded thusly
the visible spring is the shift control spring; the key spring is hidden inside the left side of the axle
the key is shown in the default (~ gear 5) position; arrows show the key loading -including the direction- in the various gears.
You can see that the RH key dog is only used in gear 5. The rest of the gears use the LH key dog, but it isn't always loaded in the same direction.
The chart below shows how the key is positioned relative to the sun pinions in the various gears. The lines are (scale size) 1mm apart.
There are eight rows;
1) gear 5 key alignment
2) sun pinion position for gears 4 and 5 (blue blocks)
3) gear 4 key alignment
4) gear 3 key alignment
5) sun pinion position for gears 3,2,1 (blue blocks)
6) gear 2 key alignment (RH part of the key not shown)
7) as row 5
8 ) gear 1 key alignment (RH part of the key not shown)
You can see several things;
a) all shifts require that the sliding keys are able to slide in the axle
b) shifts which require a change of sun locking (2-1, 5-4) potentially lock both suns momentarily during the shift
c) If the cable setting is the slightest bit too slack in gear 4, the gear 5 (RH) dog is going to interfere with the primary (RH) sun pinion
d) if the cable setting is the slightest bit too tight in gear 2, the gear 4-2-1 (LH) dog is going to both lose engagement with the secondary sun pinion (the engagement is at best ~2.5mm) as well as interfere with the primary sun pinion.
In fairness some of the above are mitigated by the fact that the key assembly is in two halves so that that the 4-2-1 part can deflect leftwards against (a very strong) spring and also the sun pinions can deflect in some cases too (which sometimes is good, sometimes bad). But there is basically no leeway in the hub; one full turn on the barrel adjuster is often enough to throw the adjustment out; this is the kind of thing that you expect with an Alfine 11 perhaps but not with something ostensibly less complicated. The most commonly found SL-S50 thumbshifter has almost enough (sticky) backlash that the hub won't work even when the shifter is new; it soon develops far more backlash than that. It is easy to shift 3-2 and to end up in a d) type problem, only gear 2 is lost because the sun pinion deflects leftwards. This makes a terrible racket and will soon damage the hub.
It is possible to rebuild the SL-S50 shifter so the backlash at least isn't sticky, but the backlash itself is problematic; you soon get into a situation where the shifter won't latch in first gear unless the cable is pulled really tightly; this is exactly the sort of thing that causes the cable to go out of adjustment.
I note with interest that the key used in an S3X hub is different; it has a smaller dog for the low gears, which presumably leads to fewer problems in the 3-2 and 2-1 shifts.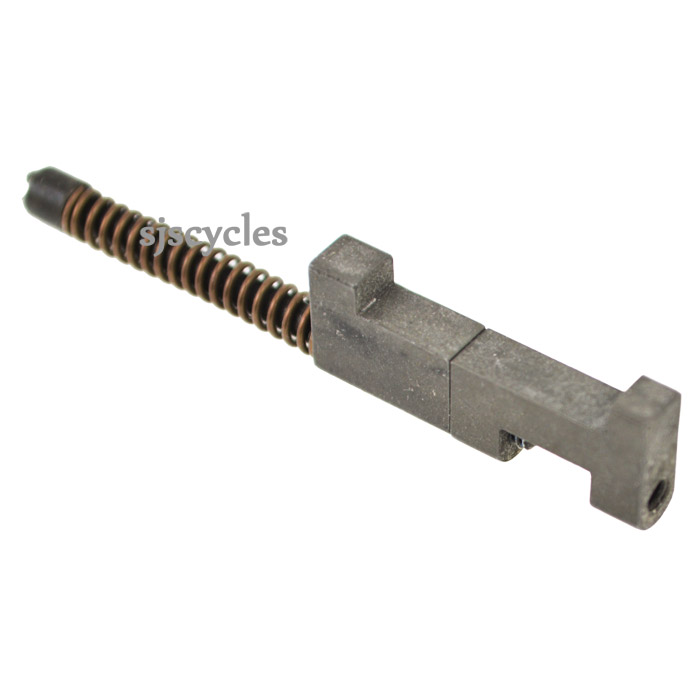 HSA737 for S3X hub
I may yet try an S3X key in a (W) hub; even if there is then a false neutral this may be preferable to the usual mechanical commotion.
Other things that go wrong with (W) hubs are that the high gear drive pawls are only partly engaged in case d) which can lead to them getting broken when the gear slips, the actuator plate can fail (the same things happen with NIG three-speeds too BTW) and the screw that holds the key assembly together occasionally backs out, which is pretty disastrous.
So I have a (W) on my carrier bike and it works OK for the most part. But for the life of me I can't get it to shift smoothly
and
quickly 2-1, I don't think it is a terribly efficient hub, I don't expect it to last forever, and even the normally slick 4-3-2 shifts are not quite as smooth as they could be. I'd go as far as to say I have
made the hub work
only with some difficulty (eg re-engineering the shifter); lots of other people have, under similar conditions, either given up with the thing or have broken the hub so badly that it can't sensibly be fixed.
Spare parts for all single-toggle 5s hubs are now not widely available; they are no longer being made (unless you count the S3X) and whilst you can still buy complete internals I suspect that they will go NLA as stocks run low. Most in the cycle trade assume (not without good reason) that repairs may not be worthwhile because another breakage is never far away. I take the view that these hubs can be made to work OK provided they are controlled using carefully chosen shifters and are kept meticulously adjusted. But this is not for everyone; as a general rule it is a good idea to ask the question "if the hub goes out of adjustment, is it likely to break before anything is done about it?". With some hubs/users the sad conclusion is that the hub will nearly always get broken before it is attended to.
So what are the IGH alternatives? Not SRAM any more, which (at reasonable cost/availability) leaves you with a choice of another SA hub or a shimano one. Fortunately it seems that it is possible to engineer a set of SA 3s internals which will fit inside SA single-toggle 5s hubshells (and also SA 7s hubshells). In most cases this uses a non-standard combination of parts which are not usually found together. This isn't as good as having a fully functional 5s hub but it is cheaper than a new hub/wheel and the resultant internal is both less likely to give trouble as well as easier to sort out should it ever do so.