When I first started cycling (in the 1970s) quite a lot of bikes were fitted with 'Normandy' branded large-flange hubs. I had a set of these hubs in my first set of sprint wheels. 'Normandy' (at this time) was a Maillard brand name. The LF Normandy model aped the appearance of the rather lovely Campagnolo Nuovo Record large flange hub which was (and still is) one of the finest hubs available. Obviously the Normandy hub was built to a price but -a few foibles aside- they were quite workmanlike hubs, often with the bearings just getting smoother over time. If you could be bothered the hubshells could be polished up and would look quite smart. These LF hubs very rarely suffer a cracked flange, despite being made from fairly inexpensive castings.
The hub internals were shared with many other maillard-produced hubs, including many small flange models, which although they might work perfectly well, look completely anonymous by comparison. There is a small theoretical benefit to using large flanges, but for some reason I have a disproportionate fondness for large flange hubs and an equally disproportionate disregard for the small flange models (I mostly use them as a source of spare parts for large flange models....). There were posher maillard hubs such as the 700 which could also be had in LF format; these hubs have much better bearings and different shells, which have a slightly thicker spoke bed and/or slightly thinner 'spokes' to the hubshell design. This post is mainly about the basic models which have plainer flanges. Apologies for (?) in places; these are dimensions which are from memory and need to be double -checked; I will edit accordingly as I do so.
In general there were five generations or styles;
1) with round drillings in the flange (~1960s)(NB there is more than one style with round drillings)
2) with oval perforation (slots) in the flange- the most common type (late 60s to ~1980)
3) with oval perforations (slots) in the flanges but with sachs-maillard branding (1981 to ~1987)
4) a revised hubshell casting, and sachs-maillard branding (~1987 until the early 1990s)
5) oddball hubs eg schwinn versions with triangular flange cutouts. (date unknown)
Across the generations the axles were either solid (5/16" x 26tpi front, 3/8"x26tpi rear) or QR (M9x1 front, M10x1 rear) although some very late sachs-maillard hubs (circa 1990) departed from this format, in a bid to have stronger axles fit for MTB use. You can swap axles (complete with cones etc) across types in most cases. Hubs use 3/16" balls front and 1/4" ones rear, except for tandem and MTB front hubs, some of which used 1/4" balls too. Axles had rolled threads (good) but were also made from steel of indifferent quality (bad) and had a groove for a tab washer (again bad from a strength perspective). The tab washers lose their tabs easily, the tabs damage the screw threads and rear axles break quite often. Also the QR hubs suffer from quite a lot of axle compression under the QR load (especially if you use a rear hub in slotted dropouts which means the skewer needs to be extra-tight) and this means that the bearings suffer badly unless they are correctly adjusted (i.e. a little free play that just disappears as you tighten the QR).
Hubs vary in detail; variations include
-QR fitment (many possible types)
-Drillings; 32 or 36 front, 36, 40h rear are possible
-cones; early hubs have silver finished cones, but most have black-finished cones, cone spanners are typically 13mm (front) and 15mm (rear)
-locknuts; many possible types, most common type on QR hubs has a single ridge and is 16mm front, 17mm rear
- spacers in rear hub - several different types possible.
- Front OLN; various 92mm to 100mm, sometimes with inner ridges to the locknuts so that the front hub won't drop out of a Raleigh fork.
- Rear OLN; various including 120mm, 122mm, 124mm, 126mm, 130mm. [minimum OLN for a rear hub, i.e. with thin locknuts and no washers, is about 101mm.]
- rear freewheel threading; French or British
-cup inserts; front hubs have a 23.5mm diameter opening and rear 29.6mm diameter. Both dustcaps and cups measure slightly over these dimensions so they are a tight fit in the hubshells.
-rear hubshell type; freewheel thread one side only, fixed/free or double fixed types were available.
- spoke drillings ~2.5mm
- flange thickness ~2.9mm
- spoke drillings are often (maddeningly) slightly eccentric. If you set all the spoke nipples identically, the wheel is usually egg-shaped by about 1mm.
Branding;
The same (or very similar) hubs were sold under many different brands including
-Normandy
- Normandy Sport (boxed versions of the above, with 'sport' writ upon the box)
- Spidel-normandy (with spidel on the QR, Normandy on the hub)
- Maillard Normandy
- MM Atom Normandy
- Schwinn-approved maillard normandy
- Excelto, (Exceltoo) e.g. 'Super Competition' eg see 1970 simplex (evian simplex) catalogue in the VCC library; these hubs are likely to be fitted with a simplex-branded QR in the UK, and may not have any clear markings on the hubshell.
- Milremo
- LeTour
- Pelissier eg P1001 (differ in detail but all parts compatible)
- Sachs maillard
- Sachs
- Maillard-Normandy luxe (red dustcaps and centre band)
From about 1970 most Normandy and maillard hubs had date marks on the centre barrel.
Modifications, repairs and upgrades;
- Building with spoke washers; these flanges are fairly thin by modern standards so spoke washers are a very good idea.
- Drilling the centre barrel for a lube port
- Drilling the dustcaps for lube ports
- using a better quality (eg wheels manufacturing) CrMo rear axle
- replace 3/8" solid rear axle with M10x1 solid axle, using cones and locknuts from QR type hub (very good idea for fixed gear use).
- use better quality steel balls eg Gr 10
- polish cones to smoother finish (NB they often wear smooth anyway)
- using an outrigger bearing under the freewheel
- replace rear bearing cups; difficult in older hubs but easier in later versions (the back of the cup is accessible because of changes to the casting)
- reinforce rear cup support by bedding new cup on epoxy resin seat (cups sometimes crack where the balls run otherwise)
- fit shimano axles and cones (NB requires 11/64" (4.36mm dia) ball bearings in the front hub)
- fit cartridge bearings in the rear hub; cup recess is square (not curved) in early hubs but is of non-standard diameter. Best to grind the bearing OD to fit since the hubshell becomes too thin below the freewheel thread otherwise. A bearing that is starts at 30mm OD is best; it will usually withstand being ground to 29.6mm OD.
- revise dustcaps to provided better sealing (eg using parts from later sachs branded hubs)
- use cheap aftermarket (eg cyclo or weldtite) rear axle; caution: cones may not be compatible (with the cups) and axles are no stronger than the originals.
- use currently available M10x1 threaded cones from inexpensive hubs (eg Taiwanese ones) in rear hubs. These cones are usually a bit longer than the originals but this is easily overcome. I have a test underway and so far it is encouraging.
- remove tab washers (means that you must use cone spanners to adjust hub)
- polish the inside of the cutouts so that they are smooth; this removes the rough sheared finish and makes subsequent cleaning much easier.
BITD a friend tried a campag 'tipo' axle and cones in a Normandy front hub; it didn't work; the ball bearings disintegrated.
oddball schwinn-approved maillard normandy hub
earliest version of 'Normandy' style hub, Milremo branded
round-drilled hubshell, with (I think) second version axle
hubshells with drilled flanges. This version immediately preceded the change to slotted flanges
Normandy Sport hubs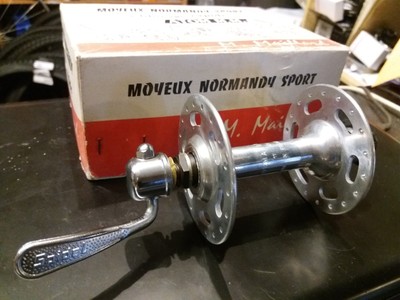 Spidel Normandy sport MM Atom hub; four brands for the price of one
Milremo ('luxe' specification) hubs
exceltoo (excelto) hubs
Pelissier 1001 Competition hubs (marked with P1001 on the QR). Its not clear in this (or any other) photo but the hubshells have slightly curved flanges in this model. There are no clear date marks, however the pair above are before the mid 1980s; much as per the Maillard-branded LF hubs, later Pelissier hubs had redesigned hubshells, identifiable by a much larger radius in the transition between the barrel and the flanges.
please let me know of errors or omissions and I'd amend accordingly
cheers