With just a handful of development engineers, SunTour was an innovative and successful manufacturer of bicycle components in the 1970s.
A very good example of this is their multiple freewheels. From the late 1960s their 'Perfect' and 'Pro Compe' models had allowed 5s and later 6s freewheels to be built with 14-34T range and these freewheels used just two styles of sprocket; e.g. in a 5s freewheel there were three splined sprockets (16-34T) on a common fitting and two smaller threaded sprockets. This meant that it was simple to build a different freewheel for a different purpose. Even their remover tool was better than most other freewheels; the two prongs were thicker and stronger.
The Regina Oro was a typical European freewheel of the 1960s;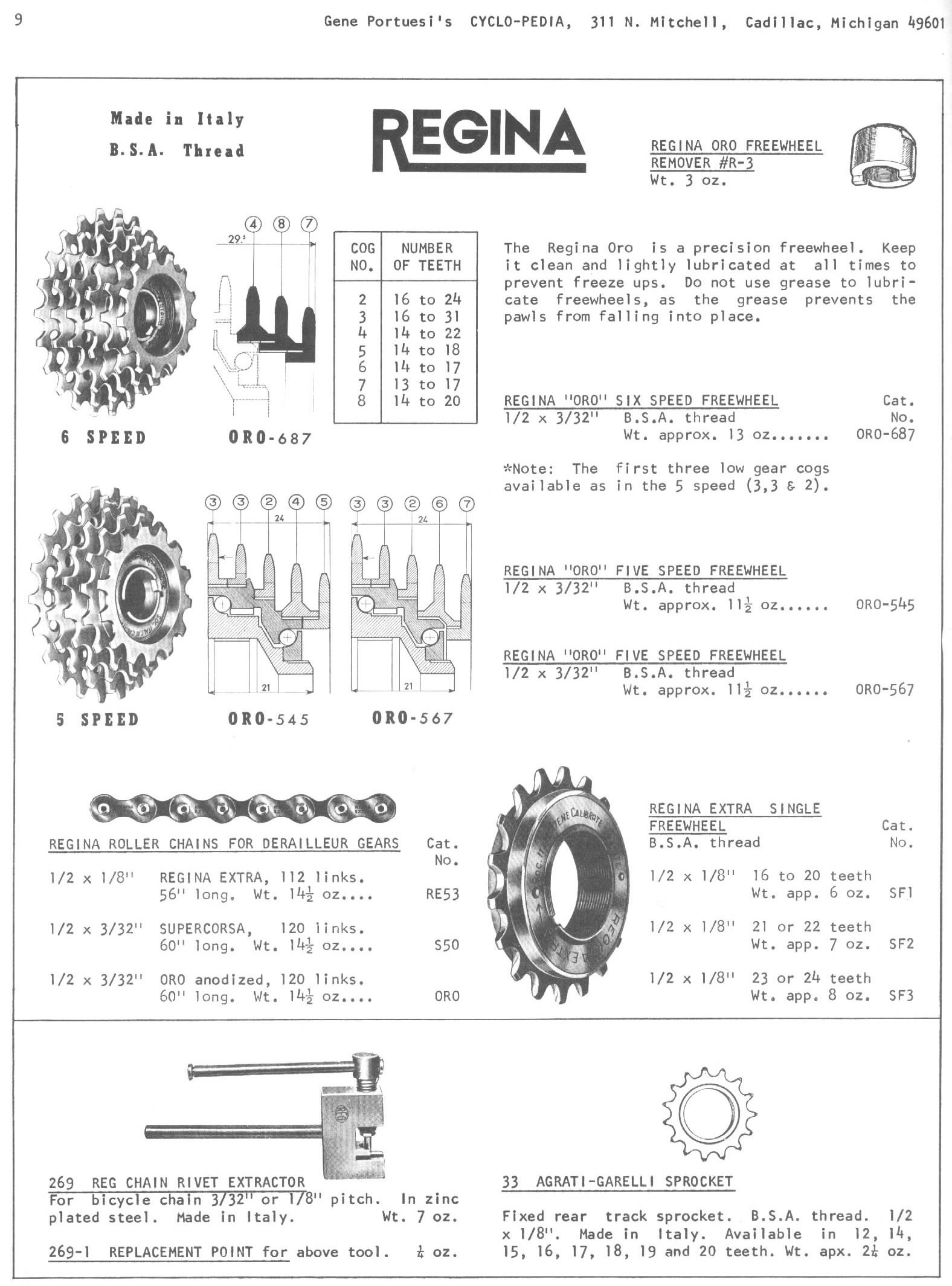 although it was not heavy and was reasonably well made, in many other respects it could hardly have been better designed if they were trying to drive you berserk. To build the freewheel up you might need any of seven or so different sprockets, and only a few of them could ever be used in a different position. The larger sprockets were left-threaded onto the left side of the freewheel body. In practice it was almost impossible to remove all the sprockets from the body (you would have nothing to grip when removing the final one) and that was only a possibility if you managed to get the thing off the wheel in the first place; a common outcome was that the remover broke, or the freewheel notches got chewed up.
After this the simpler, workmanlike SunTour freewheels were a breath of fresh air. They shifted better than average, because the sprockets were chamfered slightly, and they were not expensive either. However the bearings in the bodies remained shim-adjustable and riders were wanting to use 13T sprockets sometimes.
Thus in the mid 1970s SunTour went one step further with a freewheel they called 'Winner'. This used aluminium (for racing) or steel sprockets (Winner S) and some of the sprocket fittings were the same as those used in earlier SunTour freewheels. The bearings were adjustable in situ, and the adjustment could be locked by simply refitting the sprockets to the freewheel body. Winner freewheels were available in 5s and 6s forms.
Neat huh?
Well it was, but there were two different freewheel bodies, the aluminium sprockets were fragile and the bearing adjustment was a bit fiddly, so in late 1978 they came out with the 'New Winner'; this used a single body (with easier bearing adjustment) and (mostly) the same sprockets to enable 5s standard spaced, 6s standard spaced, 6s narrow spaced or 7s narrow spaced freewheels. It was one of the first freewheels that offered a 12T top sprocket in 7s form.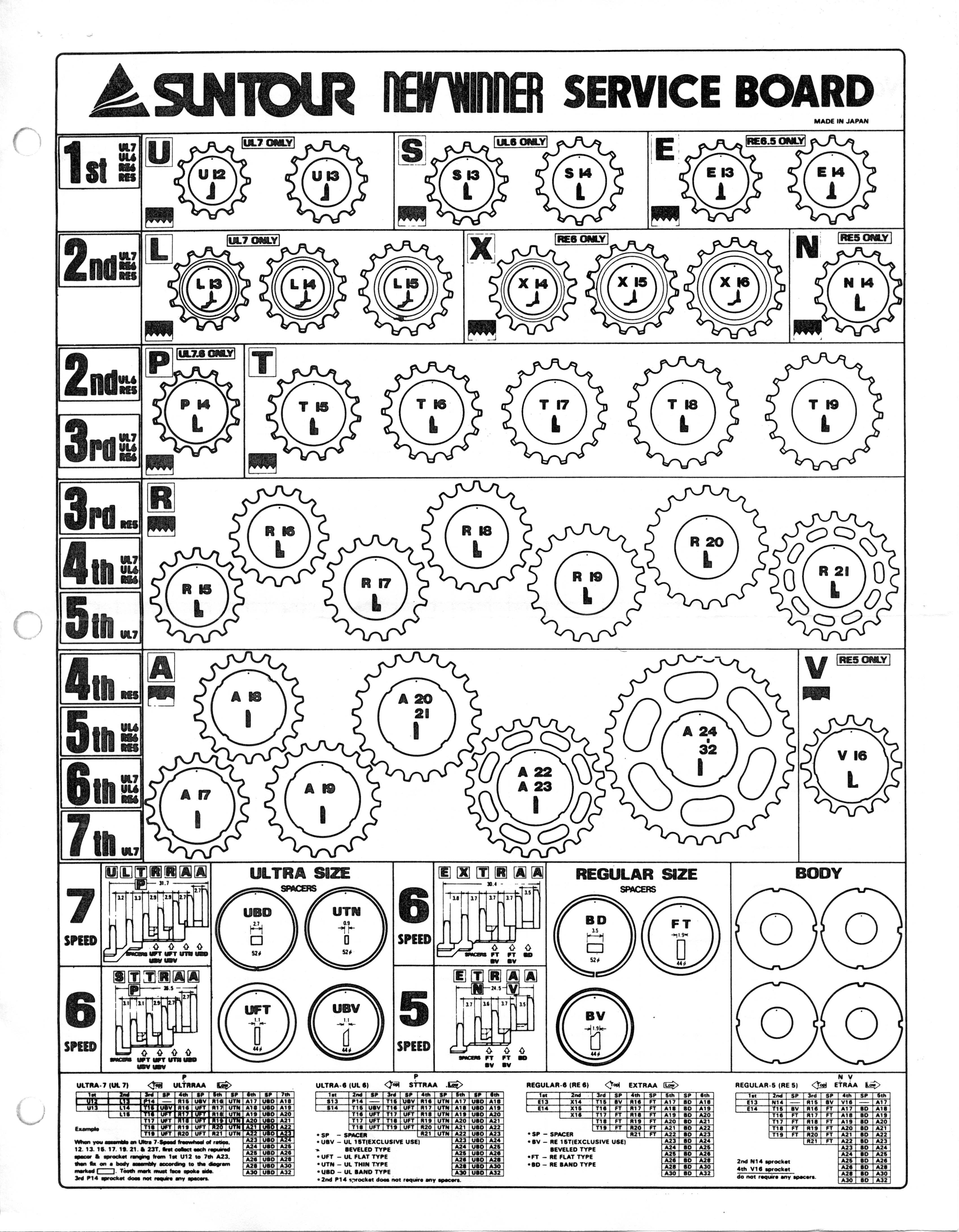 In reality the end sprockets (the smallest ones) needed to be made in several different versions and there were quite a few different spacers etc. To the above chart, further U and E sprocket sizes were added, so eventually there were eight different spacers and about as many different sprocket fittings too; in (say) 14T size alone you would need seven different sprockets to cover all eventualities.
In about 1983 they revised the body with deeper more curved grooves in the splines so that almost any older splined sprocket would fit in the 'A' position. This meant there are more sizes; from other SunTour freewheel models there are 27T, 34T and even 38T sprockets which fit the 'New Winner' body.
Although it was complicated, it was progress; I used New Winner freewheels for about a decade or more (for racing and touring) and they pretty much did what they said on the tin. The move to narrow spacing and fitting six sprockets where five had been before, or seven where six had been before was arguably the start of a trend to more and more sprockets, smaller sprockets and ever skinnier chains that continues to this day.
From my spare parts stash;
Eventually -in no small part because they were nearly always a well-used part of any freewheel that I built, be it for touring or racing- I started to run out of good threaded (T/R type) 15T and 16T sprockets, hence the freewheel above has a lightly used 16T sprocket amidst unused ones.
More about the 'Sunset for SunTour' here;
http://pages.citebite.com/o2n1u6u4w3qui
cheers