I've just checked a couple of other things.
SunRace R90 LH thumbshifter.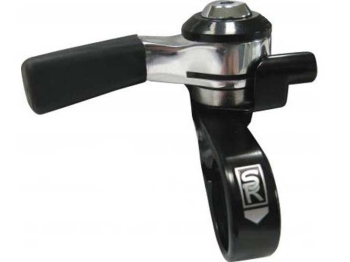 This has a ~160degree swing and has eighteen clicks (powershift style), pulling about 30mm of cable or slightly over, so nominally ~1.67mm (or a touch more) cable pull per click. The lever has internal stops in the base which limit the lever throw. If this can be modified (eg using a Dremel tool) then a couple of extra clicks ought to be possible, increasing the cable pull to between 33 and 34mm. However much more than this and the groove in the lever body for the cable will start to run out; it doesn't run around the whole lever. This is nominally a good match for shimano Dynasys 10s, which uses ~3.4mm/shift ~= two clicks.
Sun Tour XC-sport LD-4700 powershift thumbshifters
These have a spool which is 21.75mm dia and have a lever throw of about 170 degrees in standard form. Mine have a slight modification to the backplates which increases the lever throw to ~190degrees and this allows a total cable pull of over 40mm. There are about 38 clicks in 40mm, so a cable pull of about 1.05mm/click. One of the few RDs which would use an integer number of clicks for a downshift would be SRAM 10s, which uses 3.1mm/shift, about three clicks.
cf LD-1500 levers which have ~0.8mm cable pull per click. This would suit shimano 9s (2.5mm/shift) and shimano 10s (2.3mm/shift) but imperfectly, since three clicks = ~2.4mm per shift. Or it would suit campagnolo 'old' 9s which uses 3.2mm/shift ~= four clicks.
Where an integer number of clicks does not equal a 'whole shift' you can expect to be trimming the lever very often, possibly with every single downshift. For example many systems would require about 1-1/2 clicks with a SunRace R90 (LH) thumbshifter, which would be super-annoying. Sun Tour LD-4700 shifters would be almost as bad; many modern systems would require about 2-1/2 clicks per shift. I wonder how the Rivendell shifters and various Dia Compe shifters compare in this respect?
cheers