Q. where do you get a versatile, strong bike, with a UK-built Reynolds tubed frameset, which will take luggage fairly easily, and runs on cheap consumables, all for about £100?
A. that might be a Dawes MTB from the 1980s.
In general they share the following typical features
- lugged frameset built in (for the time) oversized Reynolds tubes
- tubesets from 500 to 531, including 501
- horizontal top tubes
- 1" threaded headsets
- double eyelets in front and rear dropouts
- rack braze-ons on the seat stays
- double bottle bosses
- cantilever braze-ons
- various different cable routings on the top tube
- cable stops on the down tube (so handlebar mounted shifters only)
- bottom pull FD cable routing
- underbracket cable routing to RD
- slotted (early) or vertical (later) dropouts, with built in gear hanger
- forks with a brazed crown although later models (from -1989?) had unicrown forks
- clearance for ~2.1" rubber
By 1991 Dawes had started making more models with sloping top tubes, but the retrotastic 1980s models with horizontal top tubes (like those from several manufacturers in facy) are potentially real workhorses, and can be picked up for buttons. There were many more models and versions than I remembered; I've found photos on the web of several of them (mostly within retrobike).
Dawes have not been dramatic innovators over the years, but they have produced some pretty reasonable bikes, mostly following trends rather than setting them. This meant that when the US-inspired MTBs started selling in the UK in the early 1980s, Dawes produced their own 'homage' which was the Dawes 'Ranger'; they claimed it was the first UK produced bike of its type, and in terms of factory production, it might have been. This has very slack angles, enormously long chainstays (front and rear wheels could be in different time zones) and often comes with one of those seat pins that lets you set the saddle about 3" further back than normal.
early Dawes ranger with (I think) suntour /SR/Dia Compe parts. 1986 model?
RD is seconds away from exploding; ever got the feeling that a longer chain might have been a good idea?
first version in 'burnt cherry' colour (from 1984 or 1985?)
Dawes Countryman; basically a 'Ranger' frameset with less well specced parts.[hub brakes here are a later fitment]
The Dawes Cougar was effectively the updated version of the ranger, with slightly steeper angles and shorter chainstays, still in 531 tubing
1987(?) Dawes Cougar
But there were also these
Nomad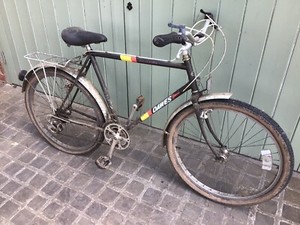 more or less to a Cougar what a Countryman is to a Ranger?
Wildcat (ISTR 501 and 531 versions)
1986? model
Leopard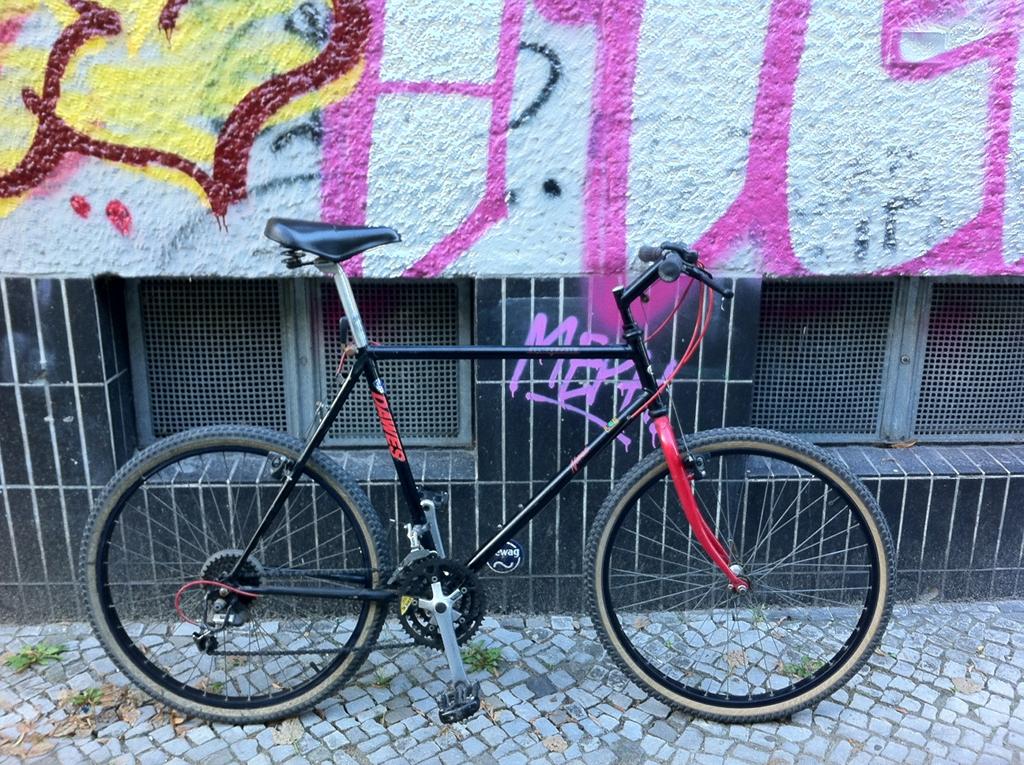 Reynolds 500 main tubes; groupset may be a one-year-only groupset, so may identify the year accurately
Quest
this model appear to have larger headset
[edit; also the 'Escape' model.]
this more or less takes it to ~1990. For 1991 top tubes were sloping in Dawes MTBs.
So any of these 1980s bikes can make good utility bikes. Perhaps crucially, many of them have horizontal dropouts and 130 or 135mm rear spacing, which means they will readily accept a modern IGH such as an Alfine or even a Rohloff perhaps, no chain tensioner required. They can make good loaded tourers, but they don't usually have eyes on the fork blades for low-riders, so 'proper' front racks only.
I was set off looking at these by the fact that I have a frameset from an unknown (to me) model. After an hour or so's looking, I found most of the above, but as yet I have been unable to identify the one I have. I'll post pictures when I get the chance. I suspect it is from about 1988 or 1989 because it has a fairly unpleasant two-tone paint job (in green and black), 531 tubing and a non-unicrown fork.
cheers