resurrecting this topic....
I've never seen anything like this! Without wishing to point out the obvious, there is clearly something different about the inner side plates on one side of the chain. This could be the loading conditions (how is/was the chainline?) but it could be something else like the plates themselves and how they are made.
When the chain is manufactured each link is assembled on an automated line. SIde plates, rivets, rollers etc are fed from separate hoppers and assembled by ingenious machines so that chain comes out at high speed. There are most likely four different side plate hoppers; two each for inner and outer side plates, such that each hopper feeds either left or right plates into the finished chain.
My suspicion is that one of these hoppers got filled with defective side plates, that were either cracked already or were so brittle that they were likely to crack in service. For the side plates to fail in this fashion there would have to be a distinctive pattern of cracking near the ends of the side plate so that a central section of the side plate can just fall out.
If this idea is correct then it perhaps has happened to others. To test this idea I did a little google search for PC68 chain and I found this;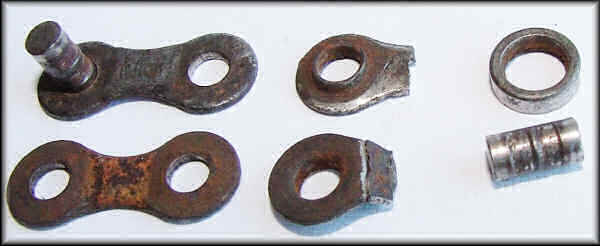 and although I don't speak Polish it appears to be a chain that was lubed with finish line and had done about 3000km or so.
The thing that I find interesting is that the chain has cracked in a similar location, and that there are multiple cracks lying parallel to one another. This smacks of poor steel quality or similar; steel with a high inclusion content could easily crack in this way, for example.
cheers