Shimano have long made pretty decent hubs; IME even their budget hubs can work pretty well, and it is really only the lack of seals that compromises them for hard touring/commuting use. So rear hubs such as FH-RM30, FH-RM40, FH-RM50 etc have been adequate OEM parts on a lot of bikes, but they do suffer in our winters, given typical levels of neglect.
Well imagine my surprise when I opened up the latest RM series freehub, the FH-RM70; Good Lord! there are seals, both on the hub bearings and the freehub body!
On the minus side there is also a new body spline, so the RM66/RM70 freehub body doesn't interchange with much else. The spline itself looks the same as the current XT one (edit; in fact, it isn't... the RM70 has a 15T spline and the XT one has a 12T spline....), but the bolt up the middle is a different size, so no budget XT rebuilds either...
the 'old' spline is seen on the right (versions with and without a seal), the bottom left shows the old RM series spline, and the top left shows the new RM66/RM70 spline. The RM66/RM70 freehub body seats onto a steel washer.
When you open up the hub there is a 'ring in a groove' type seal on the RH side, like this;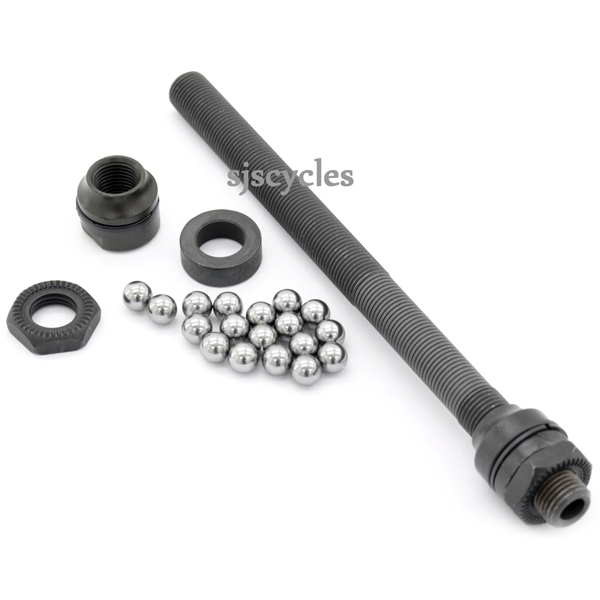 The RM66 (disc hub version) axle shown above has the same seal both ends. The RM70 has a large external conical contact seal on the left side, with a labyrinth behind that; this system is well proven on Shimano MTB hubs.
The cones are not ground and polished like posher shimano hubs, but experience suggests that these cones will 'run in' and become smoother as time goes on, given a modicum of adjustment and maintenance.
The freehub body itself has a plastic seal piece that comes out relatively easily;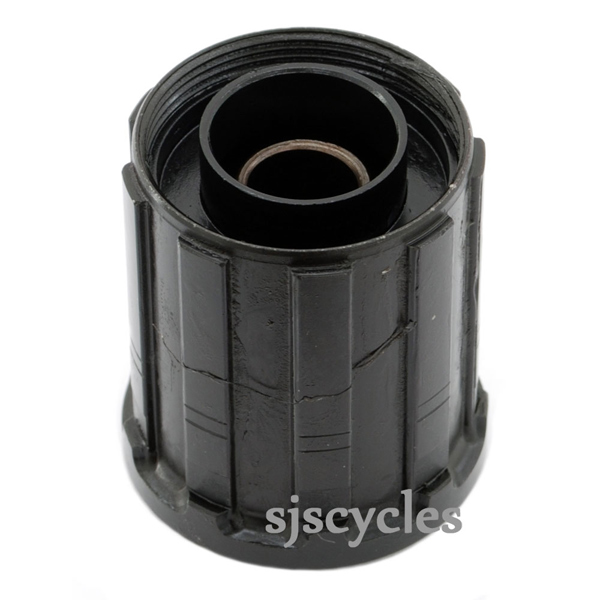 and behind that the freehub adjusting cup has four notches in it, like it is all designed to be maintained. This is arguably a significant improvement over many budget freehubs made in recent years, in that the steel dustcap that is usually found in such freehub bodies can be a swine to remove and replace without damage.
Provided the freehub body seal has not yet worn, it is possible to lubricate the freehub body with oil when overhauling the hub bearings, and this should keep things sweet for a long time. Once the seal is a little worn, or there is much play in the bearings, the freehub body will need to be lubricated with something a bit stickier ( like a semi-fluid grease; oil will come out too quickly) and will be more vulnerable to water ingress. But until then this hub should be adequately sealed for UK use, and a regrease once or twice a year should see it last well even in fairly horrible conditions.
Obviously like all cup and cone hubs, the bearings need to be set so that they have a little play in them that disappears when the QR is tightened; if adjusted too tight they won't last.
So there you go; the FH-RM70 model hub (or equivalent RM66 centrelock disc hub) looks to me like a top choice for a budget wheel; sealed freehub bodies like this have until now been the province of more expensive freehubs. Check the model number to be sure, but FH-RM70 is variously sold as 'Acera' or 'Alivio', and costs about £16-£20 for a complete hub.
cheers