Posts: 39
Joined: 11 Sep 2013, 7:54pm
Hi all, so I am wanting to mount a reflector onto my rack mount hole but need it extended slightly. Is there a extended standoff on the market anywhere that anyone knows of?
I would see what SJSC have got. There might be a Cateye product that does what you want.
I should coco.
Posts: 39
Joined: 11 Sep 2013, 7:54pm
I maybe didn't explain it very well! I don't have a rack. I want to use the rack mounting holes near chainstay to mount a light as when I have my bag attached to my klickfix seatpost mount my under saddle light will be covered. But due to the position of gear cables I can't get the light to fix there. What I want is something to work as a spacer or extender to allow me to use it. Any ideas?
Posts: 1420
Joined: 17 Nov 2009, 10:48am
Location: near Afan
put a light/reflector on your bag?
--
Burls Ti Tourer for tarmac
Saracen aluminium full suss for trails.
Have a look at Cateye's offerings - they do all sorts of brackets and lights that you can buy separately. I have seen someone with two
TL-LD610
mounted, one on each seatstay.
The lights were mounted vertically, and used different brackets to the one in the link, maybe something like the
SP MODEL Flex Tight Bracket
.
I think you can get the actual light holder bit separately, which you could then attach to your rack mounts with suitable spacers.
You mean the rack mount just above where a caliper rear brake normally sits? I think you may be able to use a front light bracket (meant to bolt to the fork crown) but with the (T or L shaped) plastic lamp mount bolted into it, suitable for your rear light.
something like this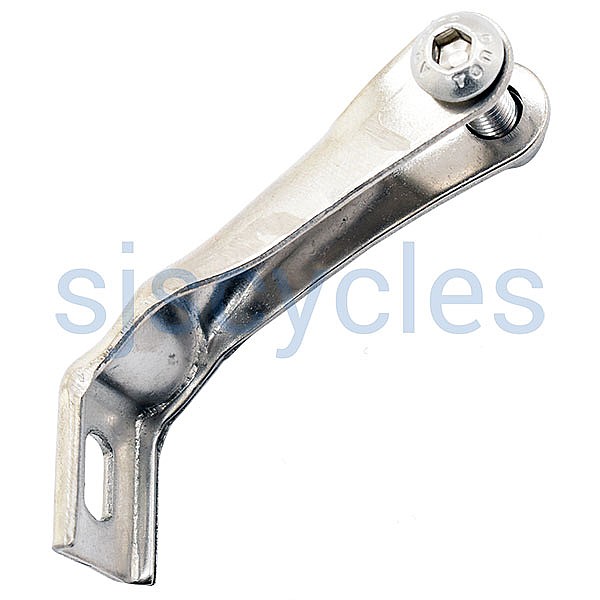 £2.10
should work provided your rear light isn't too heavy.
cheers
-------------------------------------------------------------------------------
~~~~~~~~~~~~~~~~~~~~~~Brucey~~~~~~~~~~~~~~~~~~~~~~~~
Posts: 39
Joined: 11 Sep 2013, 7:54pm
That thing from spa is just what I'm looking for I think!