I have to say that I am still not convinced by STIs even after all these years (about 26 now....
). I still think they are overly complicated, vulnerable to damage, hideously expensive (often the single most expensive part after the frameset), heavier and not so comfortable to use as you might expect.
They are also inflexible in use; they don't have a friction mode (unlike previous incarnations of indexed shifting), and they narrow your choices of derailleurs, sprockets etc and brakes to a small fraction of all those available; a kind of self-imposed tyranny if you like, since very many riders wouldn't consider buying a dropped handlebar bike without them, even though I'd describe them as contributing to a 'marginal gain' rather than transforming the way you ride. [In my mind I have a special place in hades reserved for the person that thought that indexed front shifting was a good idea; the amount of time wasted on this particular item is almost unbelieveable....]
I quite happily ride most of my bikes without such things fitted, and I think they are particularly inappropriate on touring bikes (if they are damaged or go faulty your trip is ruined unless you have the foresight to carry a spare DT lever or something) and probably the combination of more widely spaced gearing and (hopefully) a 'no hurry' attitude makes them of lesser value anyway; at best a convenience whilst they are working, and only then if you are happy to ride on the hoods most of the time.
However I will grudgingly admit that whilst shimano have dropped a clanger with some models that break way too easily (eg ST-5600 left shifters; have you tried finding one of those in GWO...? They appear to have all broken...shimano quickly launched the ST-5601 model, which may be their way of saying 'sorry guys we screwed up'
.) there are others which (crash damage asides) seem to survive much longer than I originally expected. These include models ST-7400, ST6400, ST-A550 (RX100), ST1055, ST1055-T, ST-A410 (RSX 3x7), ST-A416(RSX 3x8)
I think shimano went slightly overboard with these 7/8s shifters, for fear that they might make something where the marginal gain wasn't seen to be worth any lack of robustness or durability. This family of shifters share many parts as well as a similar architecture. The subsequent 9s shifters were built slightly differently inside and most 10s/11s models owe very little to this layout. The 7400 and 6400 models have decals over the front bolt, but underneath they are very similar to the others listed above, eg.
http://bernd.sluka.de/Fahrrad/Shimano/TM/ST-1055_1996.gif
[NB It isn't a bad idea if you have the above open in another window; I shall refer to some parts by number as per that illustration later on.]
However, nothing lasts forever; eventually these shifters may wear, be damaged, or simply stop working so well, typically because the lube has dried out inside or water has penetrated the workings. Besides 'buying another one' there are basically two approaches that are commonly mentioned in the same breath as 'faulty/sticky/erratic shimano STI';
- squirt some lube in the workings (and hope) or
- disassemble the shifter and overhaul it properly.
One is fairly well dissuaded from the latter by photos like this;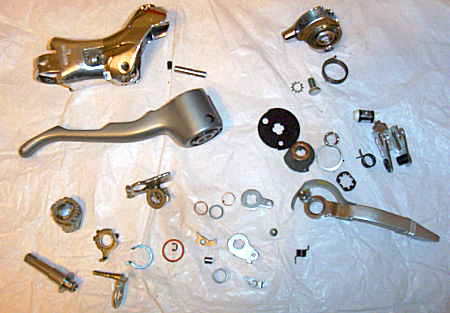 https://sheldonbrown.com/sti-repair.html
which (probably rightly) portrays the latter as being too complicated for your average DIY mechanic; one imagines that if you open the STI up, those of a weak disposition will begin to weep, birds will fall from the sky, crops will fail, and sensitive ladies will fall down in a dead faint etc. [I daresay if Bateman were still alive, he'd have done a "the man who suggested taking an STI apart" cartoon...
] .
However I think there is a third method that is worth a go. In this post I shall describe/link to each of the three methods.
a) External lubing. This has the great advantage that it is fairly fast/easy and may cure the problem. If you squirt a penetrating lube (GT85 or WD40) into a sticky shifter (through any and all openings in the shifter mechansim) and 'exercise it', a faulty shifter will often miraculously recover. It isn't a bad idea to cover or remove the hood first, because many lubes will contaminate and degrade rubber parts. Having restored the function this way, it is a good idea to follow up the penetrating lube with something that will be a better lubricant in the long term, but that won't dry out so easily. An Aerosol SFG (semi fluid grease) is a good choice. The original factory lube appears to have been some kind of white grease, that was never mobile enough to coat the parts properly (so some bushings can corrode) and variously doesn't inhibit corrosion very well, and dries out.
b) if the above treatment doesn't work, I would suggest a frontside inspection next. I recently bought a set of (almost immobile) RSX 3x7 STIs at a bike jumble, with an idea that if they if they didn't succumb to option a), I'd dig in a bit deeper. I was almost disappointed when the shifters appeared to have recovered following the spray lube routine..... but then the RH one (which had been mysteriously a bit more draggy than I'd like) jammed solid. Thus I girded my loins and got stuck in. I got on so well that I did a sceond one too, and this time I took some photos.
Step 1 is to remove the face plate. This is held on by an M6 (typcially) threaded bolt which (if exposed) accepts a 5mm allen key. To get at the same bolt on 7400 and 6400 models, you need to remove the covers, and the bolt beneath is hex headed.
the bolt has a toothy locking washer beneath and the front cover is located so that it cannot turn. Once pulled off, you will find a dust seal and spring beneath.
The spring supplies about half the return force required for the main (downshift) lever. At this stage the front pivot bushings (#9 etc) may or may not come out of the front of the lever too.
Step 2 is to remove the lever assy from the bracket. You need to use a 2mm allen key to unscrew an M4 grub screw that locks the lever pivot shaft in position. The screw doesn't have to come out, if you back it out two or three turns that is plenty.
Then drive the pivot shaft out of the lever body; Sometime this is tight, other times it practically fall out
It is probably best to remove the brake cabe anchor and the spring and bushes that are associated with the main pivot shaft; they can easily become lost later on otherwise.
Step 3 is to separate the main (downshift) lever (#10) itself from the shifter internals. There is a small screw (#4) at the back of the shifter internals. In most cases this screw is hidden by the upshift lever. Moving the upshift lever to one side (and holding it apart from the downshift lever using your thumb) allows access to this screw.
once this screw is removed the lever (#10) will slide off the main shaft, allowing excellent access to the shifter workings.
-----continued in post below-------