Noticed this on freecycle nearby and went for it.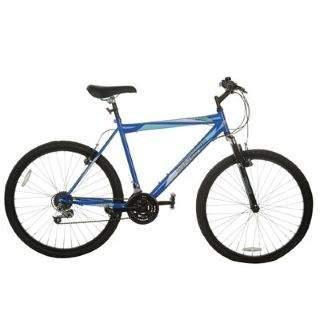 Just planning to make a beater bike out of it.
Problems it currently has;
awful unusable front suspension forks and dire gripshifters with low end freewheel.
I have already;
An old 7 speed freehub single wall rim rear wheel which I bought a while ago for £8 (amazon warehouse)
7 speed cassette 12-32t I think. I think I paid £4 (amazon warehouse)
Rigid front forks which need painting. £3 (ebay)
A angle adjustable quill stem. £6 (amazon warehouse)
Kenda road tyres £3x2 (Planet x)
Single chainring crankset £8 (amazon warehouse)
Tourney 7 speed shifter set £3 (just the very basic type) (aliexpress or ebay, can't remember)
So I'm going to put about £40 into the bike.
The bike has an upgraded rear derailleur, a higher end more recent tourney derailleur already fitted.
Alternatively I've thought about making it single speed or even fixed as I have both a single speed freewheel and locking fixed cog that would fit to the original freewheel hub rear wheel.
The bike currently weighs about 16kg but 3kg of that appears to be the heavy steel suspension fork. I think with a rigid fork it will be down to about 13.5kg possibly sub 13kg with a single speed freewheel or fixed gear.
Remember aim is a beater bike that I can ride anywhere and not have to worry too much about theft or damage etc, left outside shops. The weight of the bike is not an issue at all for me. This is a bike that will get scratched up and abused and treated like garbage pretty much. The scruffier the less likely people will mess with it.
Would you go;
Fixed
Single gear
7 speed cassette.
The frame appears to be 20" so quite a large frame for a generic bike.
I'd like to go fixed due to simplicity and reliability but wondered if single speed would be better so I could coast or go beyond that with 7 gears to give more practicality but less reliability, i.e. taking heavy shopping home. Assuming you wanted a beater bike and weight didn't bother you which would you go for? I would likely gear it quite low as a fixed or single gear bike so would lose a lot of high gearing which maybe would suit the casual nature of the bike.