Hi Jack1 going on 3 month trip i,m thinking of changing my B17 brookes saddle for a wider saddle with springs (BROOKES) for this big trip i think i might have problems, with my more thinner saddle any thought,s ? Regards Jack1
---
What sort of problems do you mean? The standard B17 is already pretty wide. I guess the place to start is establish where your 'sit bones' rest on the B17. A used Brooks, you should be able to sees where they are indenting the saddle. If they are too near the side edges then yes, get a wider saddle. But you allude to wanting a saddle with springs, which makes me think you are after a different sort of comfort. Are you intending on doing some off road? This is where the sprung Brooks may help. I still thing that a standard B17 has a reasonable amount of in-built suspension in it though.
---
If your saddle is comfortable why would you want to change it?
---
The B17 is a touring saddle why do you want to change it?
---
vernon wrote:The B17 is a touring saddle why do you want to change it?
+1
---
+1
B17 generally gets votes for touring.. Wider cousin to that is B68 but this is good only for riding upright? For touring positions (saddle v handlebar at the same level) B17 is recommended. (I have both on different bikes)
---
You guys aren't really helping jack1 are you? He's suggesting that he may have a problem with his B17 (where does he say it's comfortable?), if I understand his wording correctly. Which is not beyond the realms of possibility, difficult though that may seem to us members of the Brooks B17 life time membership appreciation society.
---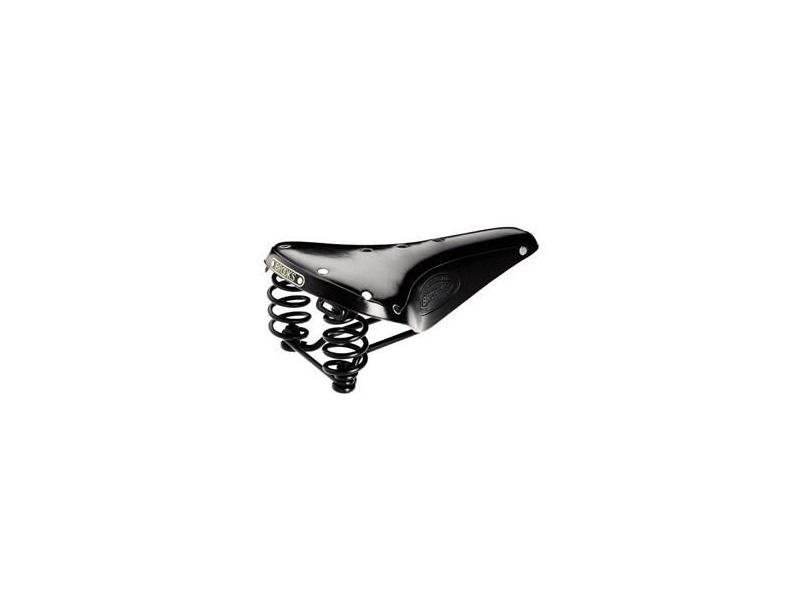 Flyer
I have this on my tourer. it is a b17 with springs. It was very good for long rides from new. I think the springs are worthwhile. I have a team pro and a b17 competition (same as a pro effectively) . They are a bit hard after a hundred miles.
---
I have a flyer and find it really comfortable. The Flyer and B17 are the saddles Brooks make for touring. If you ride very upright then you may want to go for a B66 or B67.
If you already have a B17, the only real difference with a flyer is the springs. Maybe adding a suspension seat post with your already broken in B17 may be a better idea?
---
Posts: 8210
Joined: 7 Jan 2007, 4:14pm
i've got a B72. next time i buy a saddle, i'll buy another B72.
---
Sorry to go slightly off-brookes, but I bought this for a tour of France and can't rate it highly enough! It's pretty comfortable straight off, and there's at least some comfort adjustment.
there's a bit more about it on the trip blog too.
http://www.selleanatomica.com/sterling%20buyer.htm
---
Posts: 444
Joined: 2 Sep 2009, 12:57pm
Location: Sydney, Australia
Contact:
If you are a strong road cyclist that spends most of your time with your weight on your legs then a B17 is better, as the springs would interfere with your pedalling technique.

If you are not quite as strong, or a bit overweight like me, a Brooks Flyer is so much better. The springs just help iron out those road vibrations a lot more.
---
Posts: 233
Joined: 11 Jun 2009, 11:18am
I've got a B17 thats been 'wedded' to my rear end for some time now and is extremely comfy

I did buy a 'Flyer' which is a B17 with springs thinking it would be more even better However it isn't really!
I think the springs make it feel better before its broken in but after that it feels the same to me
Maybe better if you are going over really rough roads as springs absorb some of the shock.
Gonna sell my Flyer, if your interested.

Also the extra weight is a bother
B17 = 525g, Flyer = 870g

Currently I'm breaking in a Swallow (Ti) on my 'day job' bike that I eventually hope to use for touring -
because it has more space for leg movement and is lighter @ 360g
Taking ages to break in though - the B17 took 500 miles before I could ride without pain
The Swallow has done over 1250 miles and is still painful when I reach about 25miles of a day trip - and thats with padded cycle shorts
So this year I still favour the B17 for touring- no padding required!
---
---