I have always thought mathematicians were born, not made, but I'm really frustrated by my inability to understand Sheldon on the mechanical advantage you can get from the cantilever straddle wire......can anybody explain it to me?
This is Sheldon's diagram ...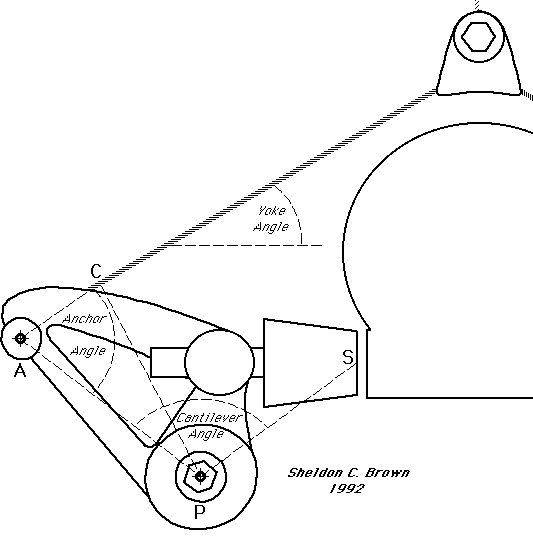 Further down the page
http://sheldonbrown.com/cantilever-geometry.html
he says the MA is 1/sin yoke angle, which leaves baffled.
He also makes a table of yoke angle and MA....I have plucked some numbers from his table;
yoke angle 50deg MA = 1.31
yoke angle 40deg MA = 1.55
What do these numbers mean? I'm used to seeing MA expressed as a ratio,like 2:1, for example.
I selected those numbers simply because I can
draw
a yoke angle of 45deg.
But when I draw a yoke angle of 45deg, and then raise the yoke by 10mm, the cable anchors move in by 13mm each, 26mm total. (I have moved them in a straight line, although in the real world, they move in an arc.)
On that basis, a yoke angle of 45deg produces more brake pad movement than the movement in the main cable, in a ratio of 2.6 : 1, a
negative
MA.
My head hurts, now!