came across these whilst looking for something else, and thought they looked interesting. I don't think they have been mentioned here before, either. They are a kind of modified side-pull brake that has a 'rising rate' linkage, i.e. an increasing mechanical advantage through the stroke.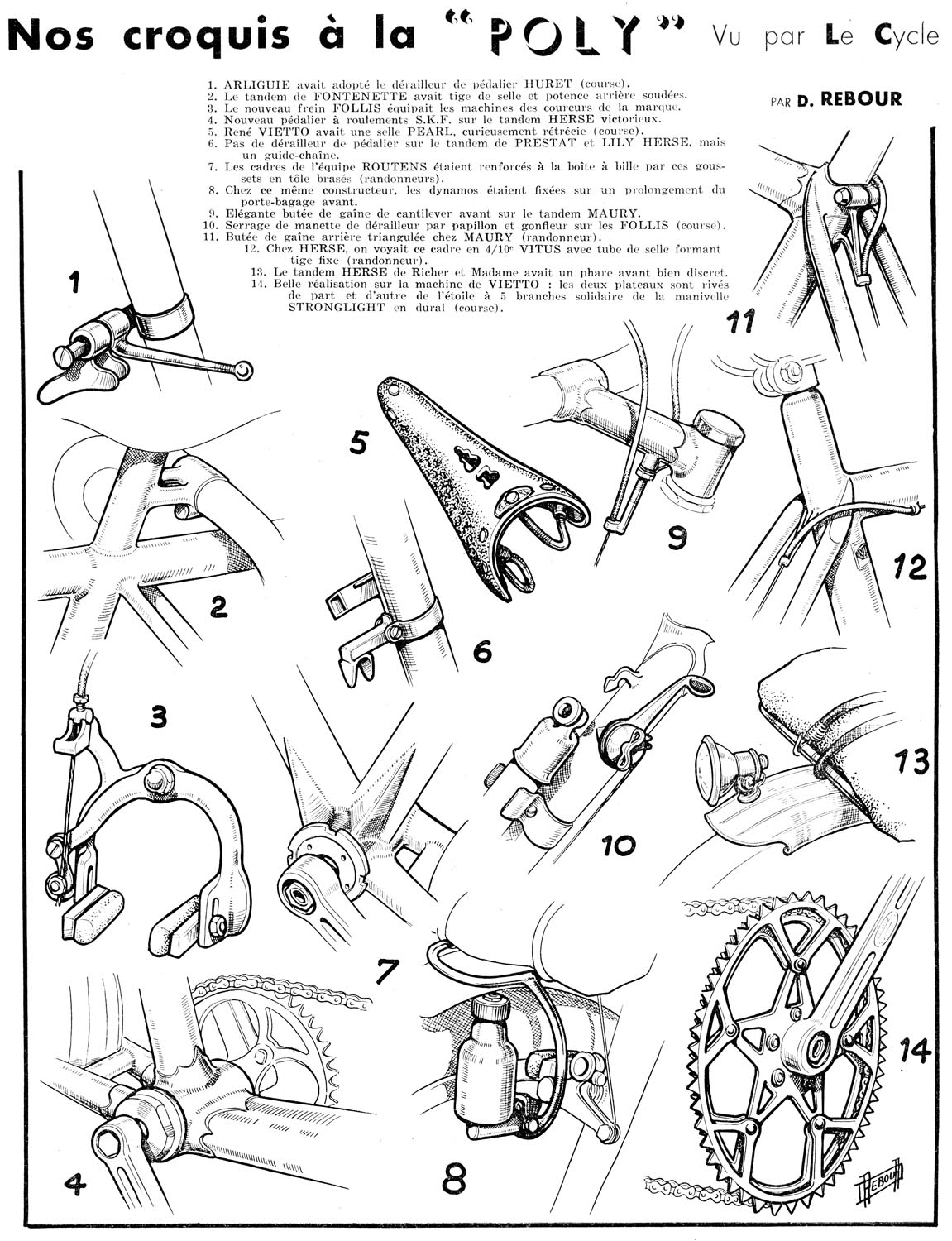 First shown in 1948, they were apparently sold by Ron Kitching for many years, still being advertised as an 'innovation' as late as 1970 (see p15 of the 1970 catalogue, available via the VCC library, for a higher resolution version)
also
http://www.classiclightweights.co.uk/components/beborex.html
http://velobase.com/ViewComponent.aspx?ID=7c4c9909-02d7-47c4-ac60-b8c73594d1f3&Enum=117
in French but well worth a look;
https://anciensveloslyonnais.weebly.com/follis---joseph-follis---marcel-follis.html
The brake works by the extra link coming closer to the horizontal as the brake is applied, increasing the lengthwise thrust in the link, which bears against the caliper (via pivot at one end and a little wheel at the other) in such a way as to increase the brake power.
It wasn't the only brake invented and patented by the Follis brothers; there is (presumably later?) version with a more complex articulated linkage in the last of the links above.
Many such rising rate linkages in brakes (campag deltas being a case in point) tend to abruptly stop working in your favour as the brake wears. Indeed the brake may stop working altogether; these brakes may be no exception. However I note that in this design, if the extra link could have a hard stop built into it (I don't know if it does or does not in fact) then at least you might be left with basic sidepull brake action if the extra link goes near to horizontal, i.e. some brake rather than none....
The brake also has a fairly nifty QR action, although it seems likely that the QR could be knocked 'on' if the steering swings rightwards so that the caliper hits the frame.
I have never seen a set in the flesh; anyone have any comments about how they worked in practice? I wonder if it is an idea that still has some value today?
I note that because the arms rotate about a common pivot, the brake is centred by a spring (like a normal SP brake, i.e. not very well with short cable runs) but that the same linkage could work with a DP brake design instead, and that whilst the centring wouldn't be 100% stable (as per DP brakes) it would at least be predictable.
cheers